Jimi Hendrix is one of the most iconic and influential musicians of all time. Though he only released four studio albums during his lifetime, Hendrix's impact on rock music is still felt today.
Born in Seattle in 1942, Jimi Hendrix was a self-taught musician who played the guitar left-handed. He rose to prominence in the late 1960s with his band The Jimi Hendrix Experience and their innovative mix of blues, psychedelic rock, and hard rock. Hits like "Purple Haze" and "All Along the Watchtower" cemented Hendrix as a true rock legend.
Tragically, Hendrix died at just 27 years old from an accidental drug overdose. But even in death, his legacy lived on – he was posthumously inducted into the Rock and Roll Hall of Fame in 1992. Let's honor his memory by taking a look at some of the greatest Jimi Hendrix quotes.
Table of Contents
Best Jimi Hendrix Quotes
The time I burned my guitar it was like a sacrifice. You sacrifice the things you love. I love my guitar.
There really are other people in the solar system, you know, and they have the same feelings too.
When the power of love overcomes the love of power, the world will know peace.
Peace, love and happiness.
Don't use your brain to play it, let your feelings guide your fingers.
You have to forget about what other people say, when you're supposed to die, or when you're supposed to be loving. You have to forget about all these things. You have to go on and be crazy. Craziness is like heaven.
Don't be reckless with other people's hearts. Don't put up with people who are reckless with yours.
The story of life is quicker than the blink of an eye, the story of love is hello and goodbye…until we meet again.
I will be dead in five years' time, but while I am here, I will travel many highways and I will, of necessity, die at a time when my message of love, peace, and freedom can be shared with people all over the world.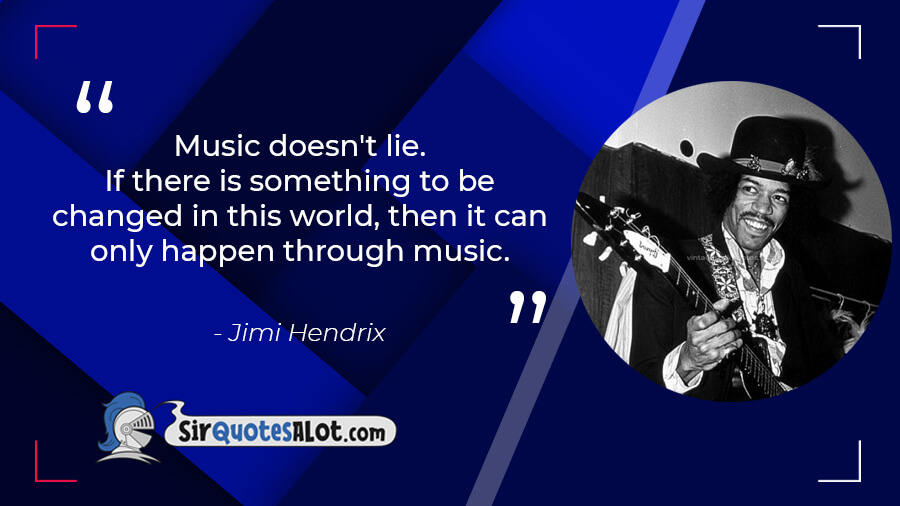 Music doesn't lie. If there is something to be changed in this world, then it can only happen through music.
All I'm writing is just what I feel, that's all. I just keep it almost naked. And probably the words are so bland.
My goal is to be one with the music. I just dedicate my whole life to this art.
Music is my religion.
You have to give people something to dream on.
Don't raise me up, I am but a messenger.
Knowledge speaks, but wisdom listens.
It's funny the way most people love the dead. Once you are dead, you are made for life. You have to die before they think you are worth anything.
I felt maybe too many people were coming to see me and not enough to listen to me. My nature changed as well.
Imagination is the key to my lyrics. The rest is painted with a little science fiction.
I'm here to communicate. That's my reason for being around; it's what it's all about.
All I'm gonna do is just go on and do what I feel.
I have this one little saying when things get too heavy just call me helium, the lightest known gas to man.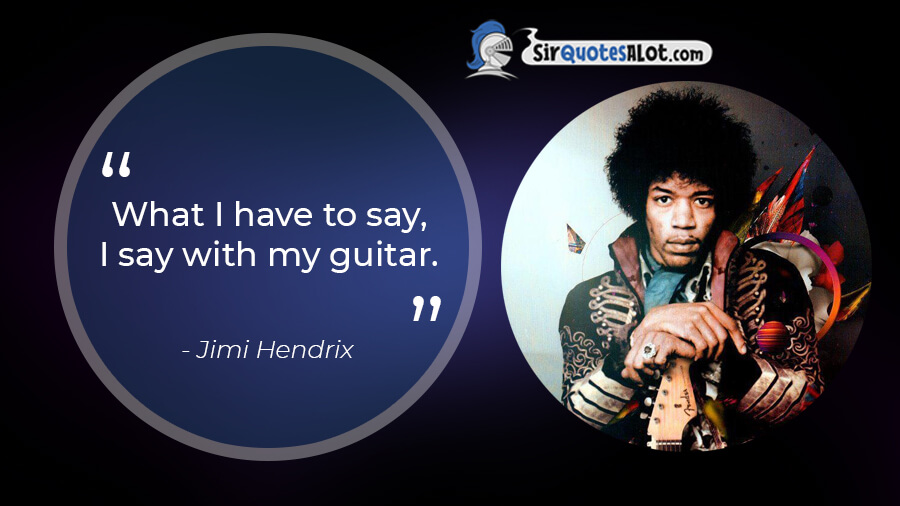 What I have to say, I say with my guitar.
Success, to me, is like doing your utmost, achieving the ultimate. Well, I have not done that. I think I shall always be looking for success.
I wish they'd had electric guitars in cotton fields back in the good old days. A whole lot of things would've been straightened out.
If it was up to me, there wouldn't be no such thing as the establishment.
When I die, I want people to play my music, go wild and freak out and do anything they want to do.
See, that's nothing but blues, that's all I'm singing about. It's today's blues.
If I'm free, it's because I'm always running.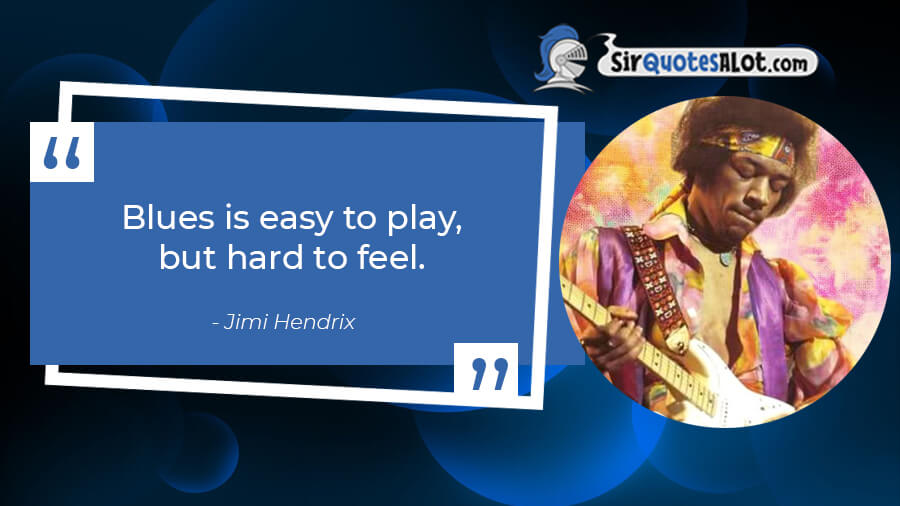 Blues is easy to play, but hard to feel.
In order to change the world, you have to get your head together first.
Technically, I'm not a guitar player, all I play is truth and emotion.
When I die, just keep playing the records.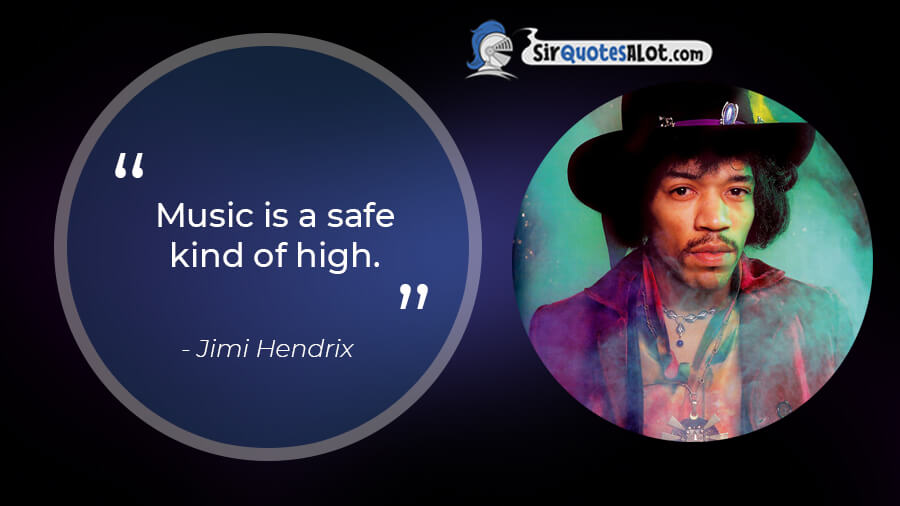 Music is a safe kind of high.
To be with the others, you have to have your hair short and wear ties. So we're trying to make a third world happen, you know what I mean?
Even Castles made of sand, fall into the sea, eventually.
Rock is so much fun. That's what it's all about – filling up the chest cavities and empty kneecaps and elbows.
I'm the one that has to die when it's time for me to die, so let me live my life, the way I want to.
I try to use my music to move these people to act.
The reflection of the world is blues, that's where that part of the music is at. Then you got this other kind of music that's tryin' to come around.
I just hate to be in one corner. I hate to be put as only a guitar player, or either only as a songwriter, or only as a tap dancer. I like to move around.
I've been imitated so well I've heard people copy my mistakes.
When I played God Bless The Queen, I was wondering if they was gonna dig us, then quite naturally I'd go on and try to get it together.
White collar conservative flashin down the street, pointing that plastic finger at me, they all assume my kind will drop and die, but I'm gonna wave my freak flag high.
Sometimes you want to give up the guitar, you'll hate the guitar. But if you stick with it, you're gonna be rewarded.
Music makes me high on stage, and that's the truth. It's like being almost addicted to music.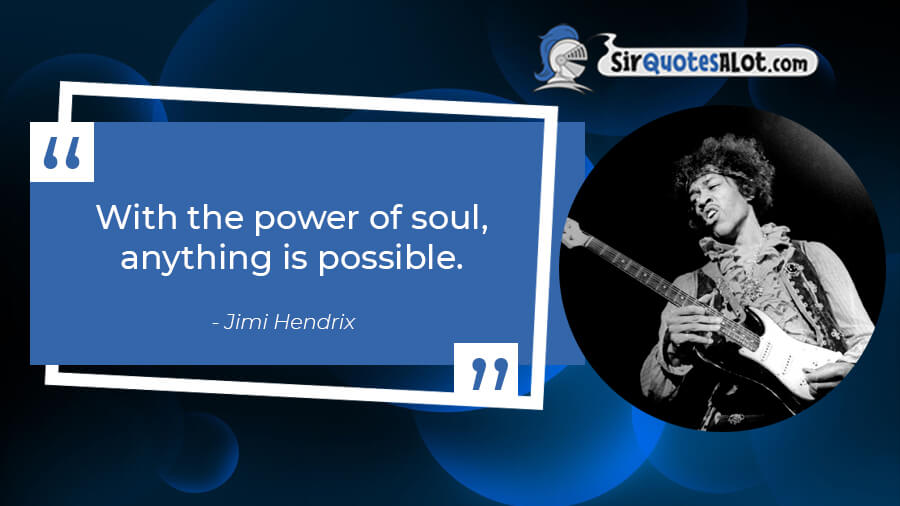 With the power of soul, anything is possible.
You don't have to be singing about love all the time in order to give love to the people. You don't have to keep flashing those words all the time.
Music is stronger than politics. I feel sorry for the minorities, but I don't feel a part of one.
I don't really live on compliments. As a matter of fact, they have a way of distracting me. I know a whole lot of musicians, artists out there who hears the compliments and thinks "wow, I must have been really great" and so they get fat and satisfied and they get lost and forget about their actual talent and start living in another world.
Jimi Hendrix Quotes from Songs
I have only one burning desire. Let me stand next to your fire.

Fire, Are You Experienced (1967)
Purple haze, all in my brain, lately things they don't seem the same. Actin' funny, but I don't know why.

Purple Haze, Are You Experienced (1967)
I'm tired of wasting all my precious time. You've got to be all mine, all mine.

Foxy Lady, Are You Experienced (1967)
I'm goin' way down south, way down where I can be free. Ain't no one gonna find me, ain't no hangman gonna. He ain't gonna put a rope around me, you better believe it right now, I gotta go now.

Hey Joe, Are You Experienced (1967)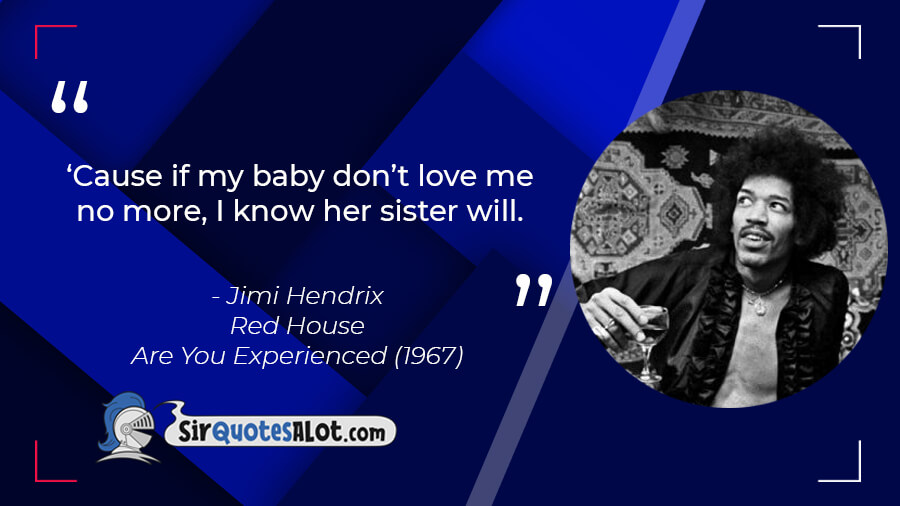 'Cause if my baby don't love me no more, I know her sister will.

Red House, Are You Experienced (1967)
Against the door he leans and starts a scene, and his tears fall and burn the garden green. And so castles made of sand, Fall in the sea, eventually.

Castles Made of Sand, Axis: Bold as Love (1967)
If the sun refuse to shine I don't mind, I don't mind If the mountains fell in the sea let it be, it ain't me alright, 'cos I got my own world to look through, and I ain't gonna copy you.

If 6 was 9, Axis: Bold as Love (1967)
And soon enough time me tell, About the circus and the wishing well. And someone who will buy and sell for me, someone who will toll my bell.

Burning of the Midnight Lamp, Electric Ladyland (1968)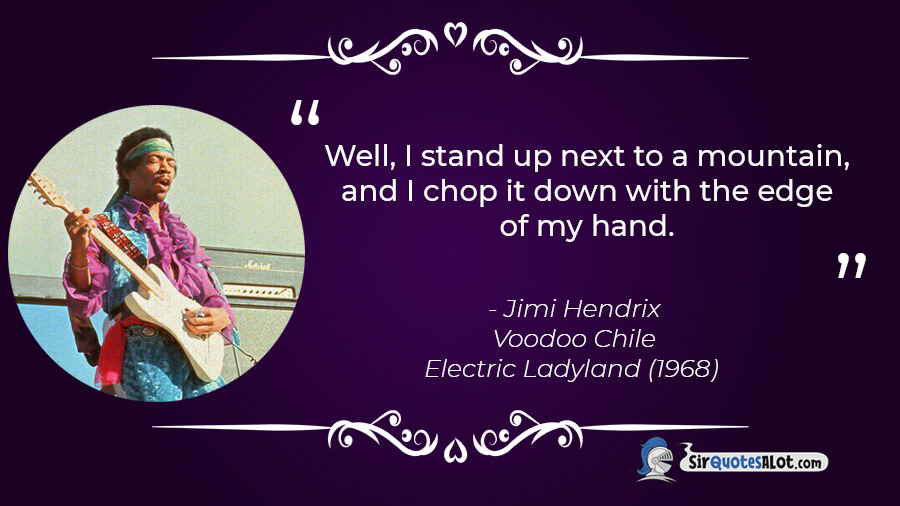 Well, I stand up next to a mountain, and I chop it down with the edge of my hand.

Voodoo Chile, Electric Ladyland (1968)
Look up at some of those airplanes risin' and takin' to see the ones that are flyin' too low yeah. Come on back up to Earth, my friend. Come on back up with me.

Power of Soul, Band of Gypsys (1970)
I used to live in a room full of mirrors; all I could see was me. I take my spirit and I crash my mirrors, now the whole world is here for me to see.

Room Full of Mirrors, Rainbow Bridge (1971)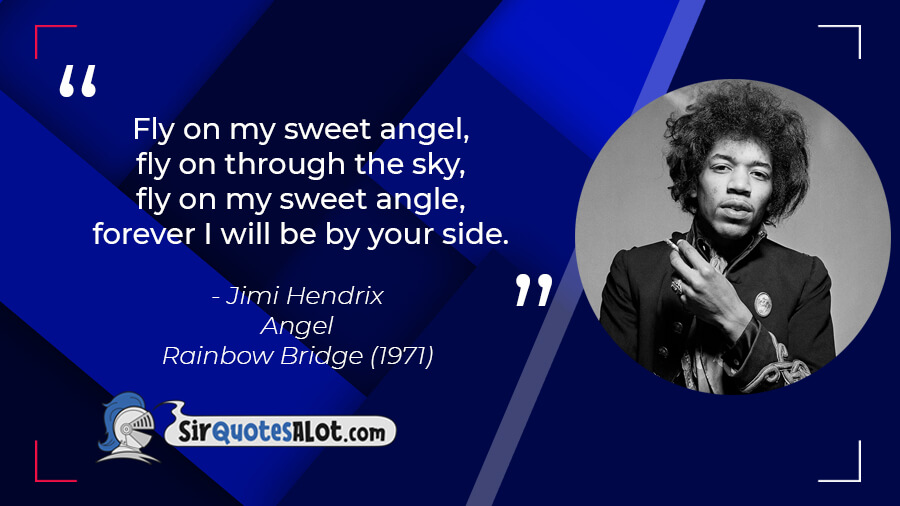 Fly on my sweet angel, fly on through the sky, fly on my sweet angle, forever I will be by your side.

Angel, Rainbow Bridge (1971)
Ridin' down the highway of desire. He says the free wind takes him higher. Tryin' to find his heaven above, but he's dyin' to be loved, dyin' to be loved.

Ezy Rider, The Cry of Love (1971)
Lay your troubles down on the chair, you've got to shake those blues right out your hair. I'm just a lonesome ship passing through the night, I'm just a lonesome bird flyin' makin' a midnight flight.

Ships Passing Through the Night, Valleys of Neptune (2010)
Interesting Facts about Jimi Hendrix
We love his songs, we enjoy his words and quotes, but now it's time to get to know the man even better. Here are some interesting facts about Jimi Hendrix. Enjoy.
Hendrix Wasn't Jimi Until 1966 – Jimi Hendrix was born as John Allen Hendrix. In 1966, Chas Chandler, who was the bass player of The Animals, saw Hendrix play at Cafe Wha?, and wasn't impressed. That was until Hendrix started playing the guitar with his teeth. At that moment, Chandler thought to himself that he could do something with Hendrix who back then performed as Jimmy James. Chandler became to be Hendrix's manager and he was the one who suggested to call him Jimi.
Hendrix Couldn't Read Music – Jimi Hendrix could not read music, yet was able to learn music all by himself by ear. Sometimes, he used colours to express what he felt or wanted to say. Purple is jealousy or rage and green is envy.
Hendrix Was Inspired by His Dreams – Jimi Hendrix dreamt a lot and used whatever he dreamt as inspiration for his music and songs. One of this famous songs, Purple Haze, was inspired by a dream he had of walking under the sea.
Plying The Guitar Upside-Down – The way Hendrix used to play his guitar became part of his shows. Among the ways he used to play, he played with this teeth, behind the back, without touching the strings, and playing upside-down. The reason was because he was left-handed, so it wasn't that difficult for him.
Hendrix Used to Play Backup for Other Musicians – Before Jimi Hendrix became one of the greatest musicians in the world of music, he used to play backup for some big names. Under the name Jimmy James, he played a backup guitar for Little Richard, Ike and Tina Turner, Sam Cooke, and others.
You Can Visit his Apartment – In 2016, the apartment in London where Hendrix started his career was restored to look like how it was back in 1968-1969 and was then turned to a museum. So, if interested, you can always visit and get inspired.
For more quotes from famous musicians, please visit our pages dedicated to Prince quotes, Johnny Cash quotes, Bob Dylan quotes, and Beyoncé quotes.