Bob Dylan (real name: Robert Allen Zimmerman) is an American singer and one of the best songwriters of all time, with an impressive career of over 60 years now. In this article, we share with you some of the best and most memorable Bob Dylan quotes.
Most of Dylan's known and best work goes back to the 1960s, with songs such as "Blowin' in the Wind" (1963) and "The Times They Are a-Changin'" (1964) becoming anthems for movements of anti-war and civil rights. His songs and lyrics during this time were influenced by politics, philosophy, literature and more.
His breakthrough came in 1963 with the release of his album "The Freewheelin' Bob Dylan", and from there on he released more albums which were influenced by politics. He kept on releasing more albums during the 1970s and 1980s, and overall, Dylan had sold more than 125 million records worldwide, which makes him one of the best-selling musicians of all time.
As it turns out, Bob Dylan is not just a musician, singer, and songwriter. Since 1994, he has published 8 books of drawings and paintings, with some of his work even exhibited in important art galleries.
He has won and received numerous awards, including the Golden Globe Award, Presidential Medal of Freedom, an Academy Award, 10 Grammy Awards, and even the Nobel Prize in Literature in 2016, "for having created new poetic expressions within the great American song tradition".
He has been inducted into the Nashville Songwriters Hall of Fame, the Songwriters Hall of Fame, and the Rock and Roll Hall of Fame.
Now, that we are done being impressed with this great man, it's time for some interesting Bob Dylan quotes. Enjoy.
Table of Contents
Bob Dylan Quotes on Life
At times in my life the only place I have been happy is when I am on stage.
A lot of people say there is no happiness in this life, and certainly there's no permanent happiness. But self-sufficiency creates happiness. Happiness is a state of bliss.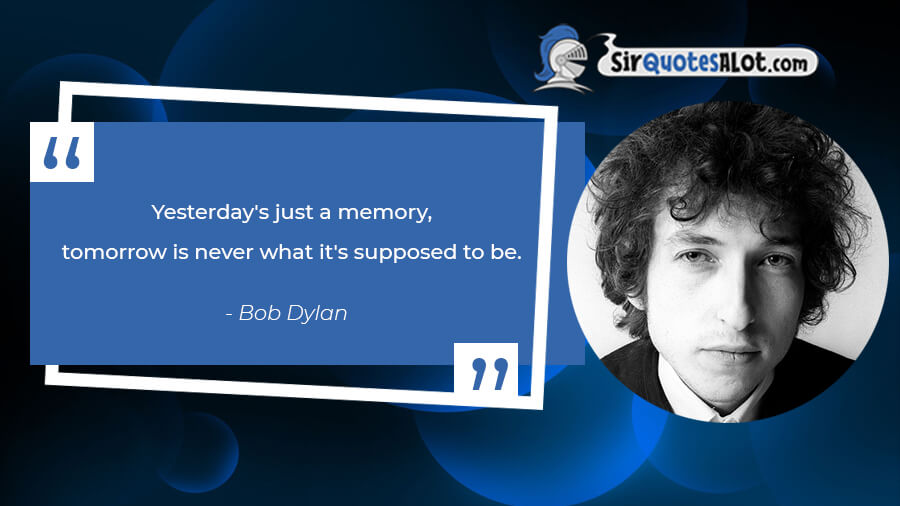 Yesterday's just a memory, tomorrow is never what it's supposed to be.
I change during the course of a day. I wake and I'm one person, and when I go to sleep, I know for certain I'm somebody else.
Anybody can be specific and obvious. That's always been the easy way.
I've never been able to understand the seriousness of it all, the seriousness of pride. People talk, act, live as if they're never going to die. And what do they leave behind? Nothing. Nothing but a mask.
Destiny is a feeling you have that you know something about yourself nobody else does. The picture you have in your own mind of what you're about will come true. It's a kind of a thing you kind of have to keep to your own self, because it's a fragile feeling, and you put it out there, then someone will kill it. It's best to keep that all inside.
You're going to die. You're going to be dead. It could be 20 years, it could be tomorrow, anytime. So am I. I mean, we're just going to be gone. The world's going to go on without us. All right now. You do your job in the face of that, and how seriously you take yourself you decide for yourself.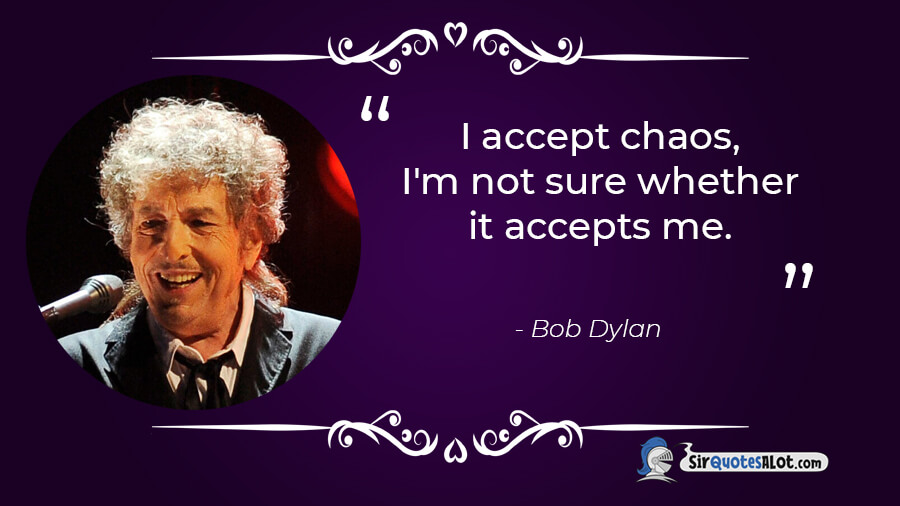 I accept chaos, I'm not sure whether it accepts me.
Death to me means nothing as long as I can die fast.
There is nothing so stable as change.
A mistake is to commit a misunderstanding.
It's hard to speculate what tomorrow may bring.
People have different emotional levels. Especially when you're young.
I don't think I've ever been an agnostic. I've always thought there's a superior power, that this is not the real world and that there's a world to come.
Experience teaches us that silence terrifies people the most.
I say there are no depressed words, just depressed minds.
If you want to keep your memories, you first have to live them.
Don't matter how much money you got, there's only two kinds of people: there's saved people and there's lost people.
You have to work out where your place is. And who you are. But we're all spirit. That's all we are, we're just walking dressed up in a suit of skin, and we're going to leave that behind.
Life has its ups and downs, and time has to be your partner. Really, time is your soul mate.
Some people feel the rain. Others just get wet.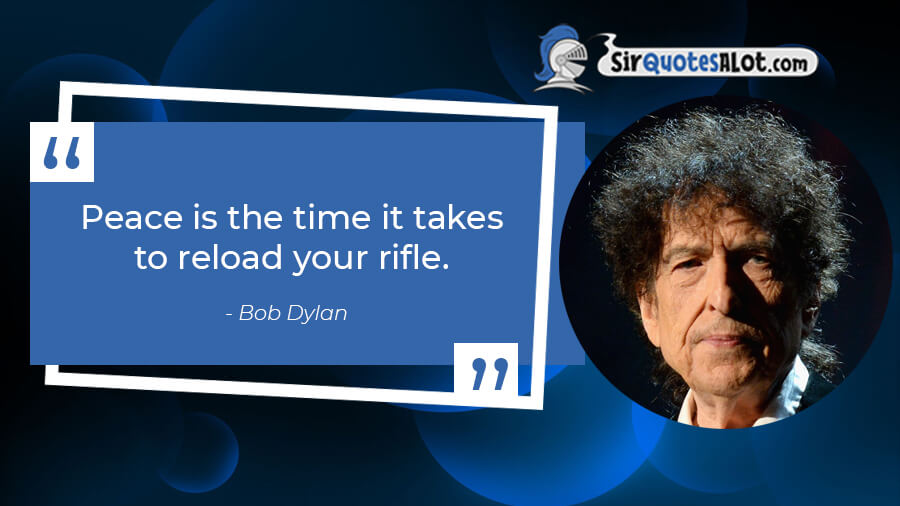 Peace is the time it takes to reload your rifle.
I define nothing not beauty not patriotism. I take each thing as it is, without prior rules about what it should be.
I don't think the human mind can comprehend the past and the future. They are both just illusions that can manipulate you into thinking there's some kind of change.
I think of a hero as someone who understands the degree of responsibility that comes with his freedom.
I think women rule the world and that no man has ever done anything that a woman either hasn't allowed him to do or encouraged him to do.
Being noticed can be a burden. Jesus got himself crucified because he got himself noticed. So, I disappear a lot.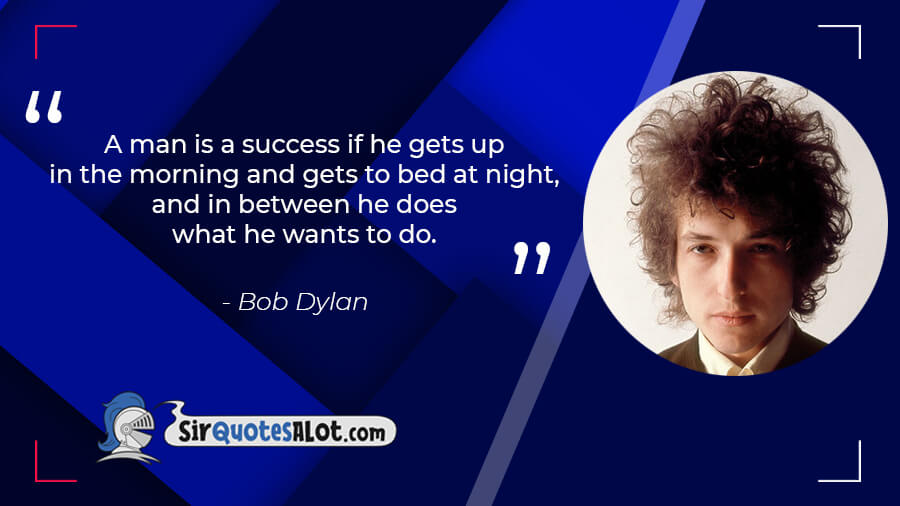 A man is a success if he gets up in the morning and gets to bed at night, and in between he does what he wants to do.
People seldom do what they believe in. They do what is convenient, then repent.
Whatever you do. You ought to be the best at it – highly skilled. It's about confidence, not arrogance.
When you feel in your gut what you are and then dynamically pursue it – don't back down and don't give up – then you're going to mystify a lot of folks.
If you try to be anyone but yourself, you will fail; if you are not true to your own heart, you will fail. Then again, there's no success like failure.
Inspiration is hard to come by. You have to take it where you find it.
It's always disappointing when people decide for one reason or another that they don't like your work anymore, but you can't try to please people, because then… you might be being a fake about the whole thing.
All I can do is be me, whoever that is.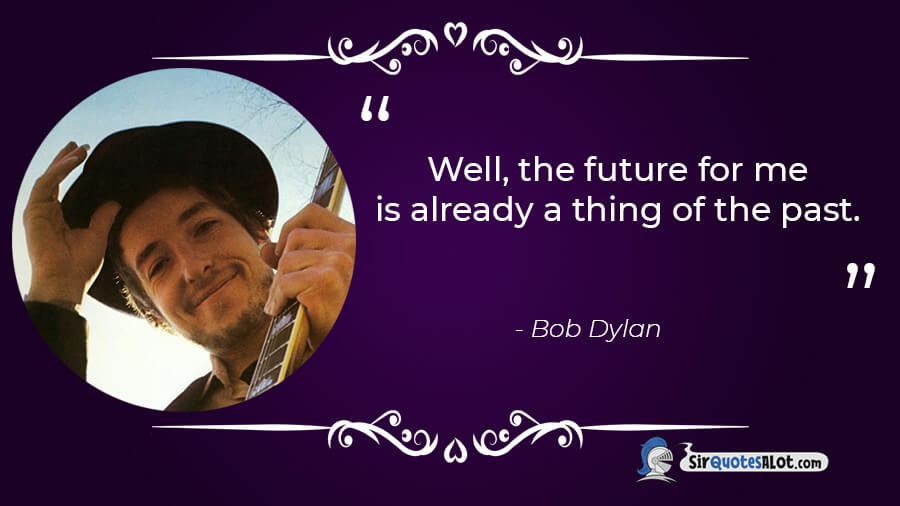 Well, the future for me is already a thing of the past.
Some people seem to fade away but then when they are truly gone, it's like they didn't fade away at all.
I'm inconsistent, even to myself.
I can be jubilant one moment and pensive the next, and a cloud could go by and make that happen.
You can't do something forever.
All this talk about equality. The only thing people really have in common is that they are all going to die.
I stopped smoking. When I stopped smoking, my voice changed… so drastically, I couldn't believe it myself.
Money doesn't talk, it swears.
In ceremonies of the horsemen, even the pawn must hold a grudge.
When you cease to exist, then who will you blame?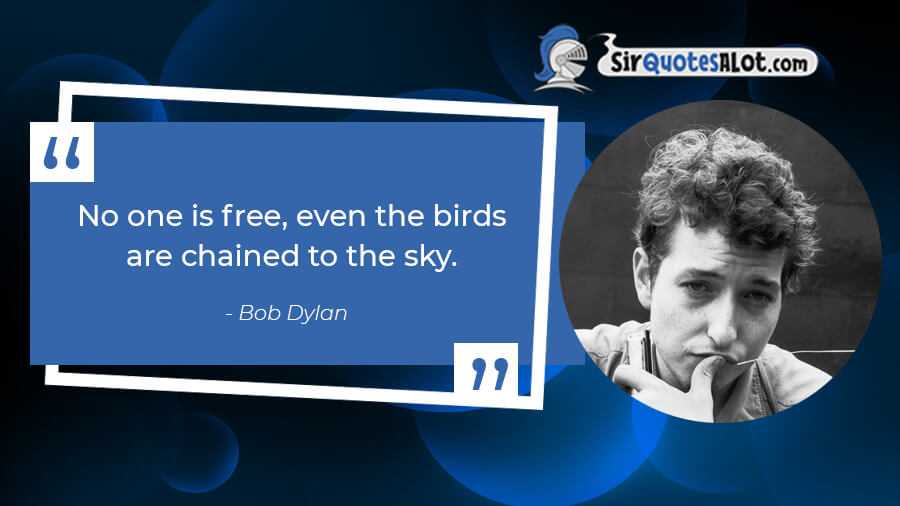 No one is free, even the birds are chained to the sky.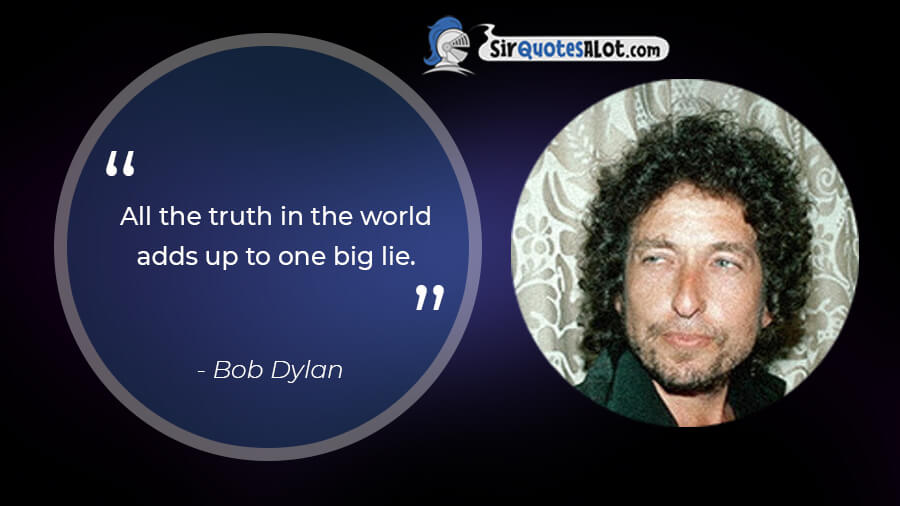 All the truth in the world adds up to one big lie.
I am against nature. I don't dig nature at all. I think nature is very unnatural. I think the truly natural things are dreams, which nature can't touch with decay.
Just because you like my stuff doesn't mean I owe you anything.
The land created me. I'm wild and lonesome. Even as I travel the cities, I'm more at home in the vacant lots.
He not busy being born is busy dying.
I kinda live where I find myself.
You're going to die. You're going to be dead. It could be 20 years, it could be tomorrow, anytime. So am I. I mean, we're just going to be gone. The world's going to go on without us. All right now. You do your job in the face of that, and how seriously you take yourself you decide for yourself.
In the dime stores and bus stations, people talk of situations, read books, repeat quotations, draw conclusions on the wall.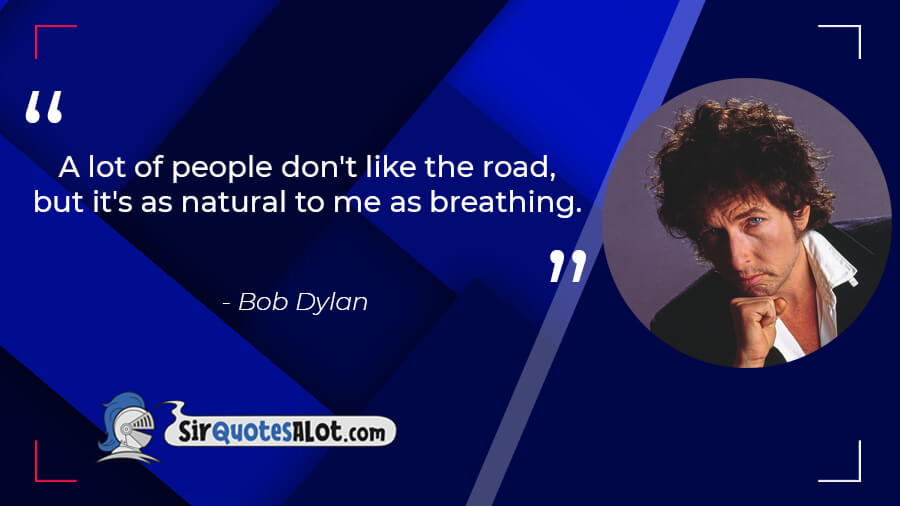 A lot of people don't like the road, but it's as natural to me as breathing.
I'm more of an adventurous type than a relationship type.
I really didn't consider myself happy or unhappy.
Having these colossal accolades and titles, they get in the way.
I like America, just as everybody else does. I love America, I gotta say that. But America will be judged.
I'm speaking for all of us. I'm the spokesman for a generation.
My father probably thought the capital of the world was wherever he was at the time. It couldn't possibly be anyplace else. Where he and his wife were in their own home, that, for them, was the capital of the world.
I can't stand to see myself on television.
Basically you have to suppress your own ambitions in order to be who you need to be.
Bob Dylan Quotes on Poems and Music
I consider myself a poet first and a musician second. I live like a poet and I'll die like a poet.
A song is anything that can walk by itself.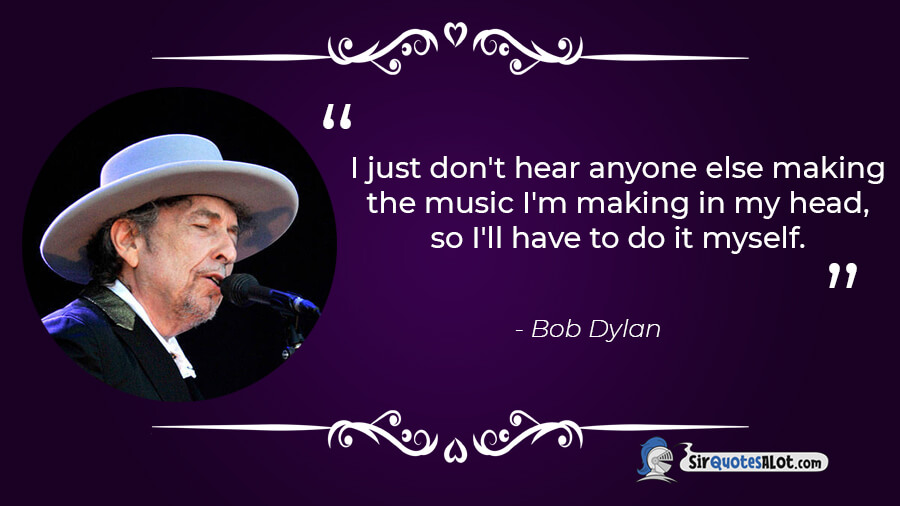 I just don't hear anyone else making the music I'm making in my head, so I'll have to do it myself.
Here's the thing with me and the religious thing. This is the flat-out truth: I find the religiosity and philosophy in the music. I don't find it anywhere else.
Some of the old folk singers used to phrase things in an interesting way, and then, I got my style from seeing a lot of outdoor-type poets, who would recite their poetry. When you don't have a guitar, you recite things differently, and there used to be quite a few poets in the jazz clubs, who would recite with a different type of attitude.
My songs always sound a lot better in person than they do on the record.
Look, when I started out, mainstream culture was Sinatra, Perry Como, Andy Williams, Sound of Music. There was no fitting into it then and of course, there's no fitting into it now.
You don't necessarily have to write to be a poet. Some people work in gas stations and they're poets. I don't call myself a poet, because I don't like the word. I'm a trapeze artist.
People today are still living off the table scraps of the sixties. They are still being passed around – the music and the ideas.
I think of rock 'n' roll as a combination of country blues and swing band music, not Chicago blues, and modern pop.
I can picture the colour of the song, or the shape of it, or who it is that I'm trying to appeal to, in the song, and what I'm trying to, almost, reinforce my feelings for. And I know that sounds sort of vague and abstract, but I've got a handle on it when I'm doing it.
The songs are my lexicon. I believe the songs.
I became interested in folk music because I had to make it somehow.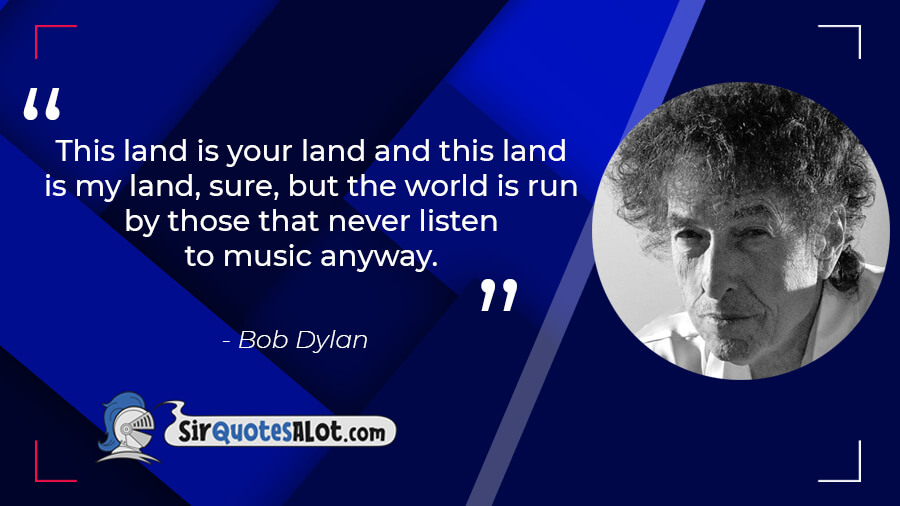 This land is your land and this land is my land, sure, but the world is run by those that never listen to music anyway.
What good are fans? You can't eat applause for breakfast. You can't sleep with it.
You can't imagine parlor ballads drifting out of high-rise multi-towered buildings. That kind of music existed in a more timeless state of life.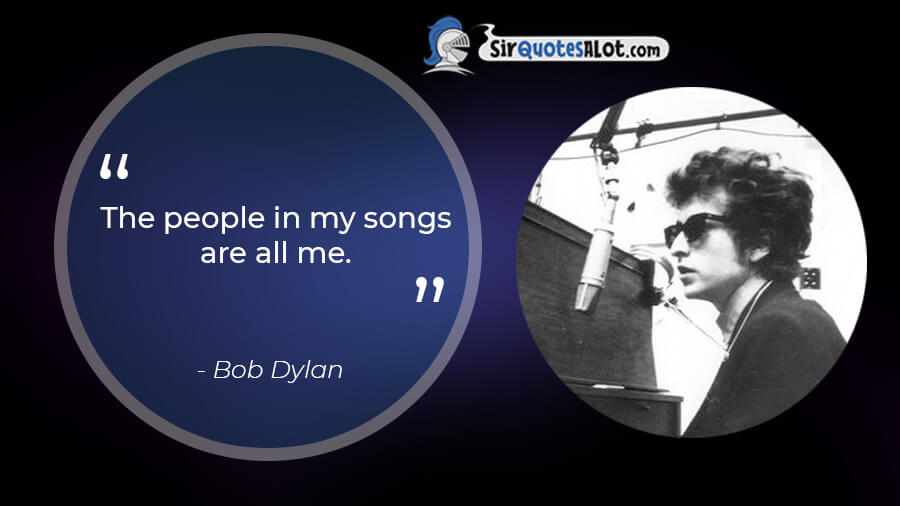 The people in my songs are all me.
I'm mortified to be on the stage, but then again, it's the only place where I'm happy.
Being on tour is like being in limbo. It's like going from nowhere to nowhere.
I can't see myself singing the same song twice in a row. That's terrible.
Bob Dylan Quotes on Politics
I've never written a political song. Songs can't save the world. I've gone through all that.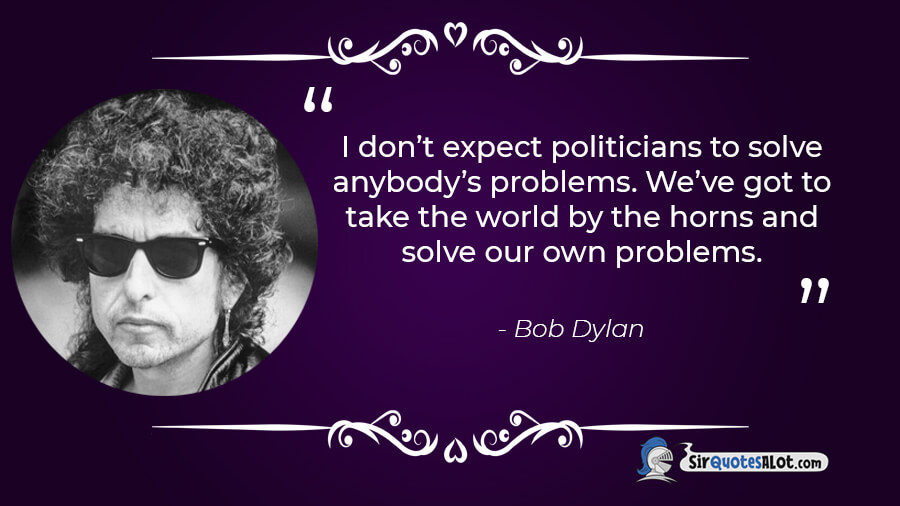 I don't expect politicians to solve anybody's problems. We've got to take the world by the horns and solve our own problems.
The world owes us nothing, each and every one of us, the world owes us not one single thing. Politicians or whoever.
Bob Dylan Quotes from Songs
The answer my friend, is blowin' in the wind.

Blowin' In The Wind, The Freewheelin' Bob Dylan (1963)
Come mothers and fathers throughout the land, and don't criticize, what you can't understand.

The Times They Are A-Changin', The Times They Are A-Changin' (1964)
You're right from your side, I'm right from mine.

One Too Many Mornings, The Times They Are A-Changin' (1964)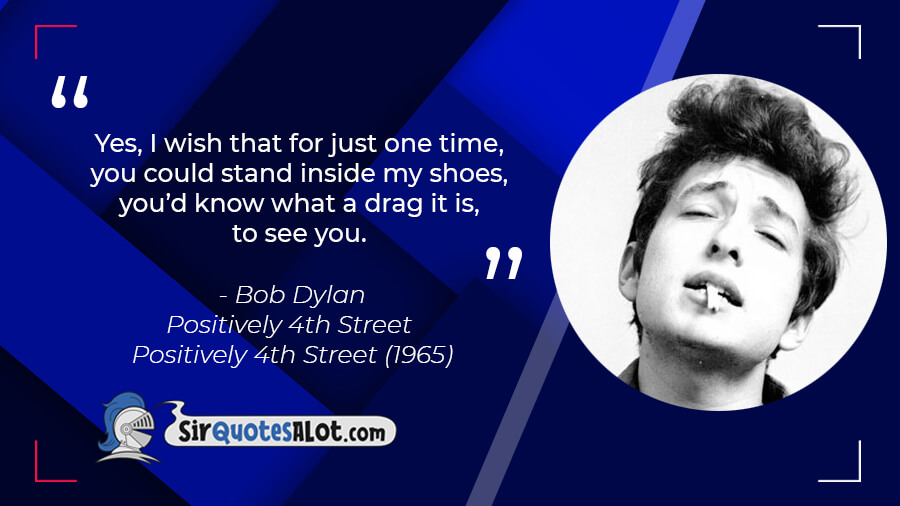 Yes, I wish that for just one time, you could stand inside my shoes, you'd know what a drag it is, to see you.

Positively 4th Street, Positively 4th Street (1965)
When you got nothing, you got nothing to lose.

Like a Rolling Stone, Highway 61 Revisited (1965)
Well, I try my best to be just like I am, but everybody wants you, to be just like them.

Maggie's Farm, Bringing It All Back Home (1965)
You don't need a weatherman to know which way the wind blows.

Subterranean Homesick Blues, Bringing It All Back Home (1965)
The highway is for gamblers, better use your sense.

It's All Over Now, Baby Blue, Bringing It All Back Home (1965)
if you don't underestimate me, I won't underestimate you.

Dear Landlord, John Wesley Harding (1967)
Why wait any longer for the one you love, when he's standing in front of you.

Lay, Lady, Lay, Nashville Skyline (1969)
The man in me will hide sometimes to keep from bein' seen, but that's just because he doesn't want to turn into some machine.

The Man in Me, New Morning (1970)
May your hands always be busy, may your feet always be swift, may you have a strong foundation, when the winds of changes shift.

Forever Young, Planet Waves (1974)
It was gravity which pulled us down and destiny which broke us apart.

Idiot Wind, Blood On the Tracks (1975)
Take care of all your memories,'" said my friend, Mick, 'for you cannot relive them.

Open The Door, Homer, The Basement Tapes (1975)
Life is sad, life is a bust, all ya can do is do what you must.

Buckets of Rain, Blood On the Tracks (1975)
An innocent man in a living hell, that's the story of the Hurricane, but it won't be over till they clear his name, and give him back the time he's done…

Hurricane, Desire (1976)
Don't turn away, you'll create sorrow, time is an ocean but it ends at the shore, you may not see me tomorrow.

Oh, Sister, Desire (1976)
Strange how people who suffer together have stronger connections than people who are most content.

Brownsville Girl, Knocked Out Loaded (1986)
every man's conscience is vile and depraved, you cannot depend on it to be your guide, when it's you who must keep it satisfied.

Man in The Long Black Coat, Oh Mercy (1989)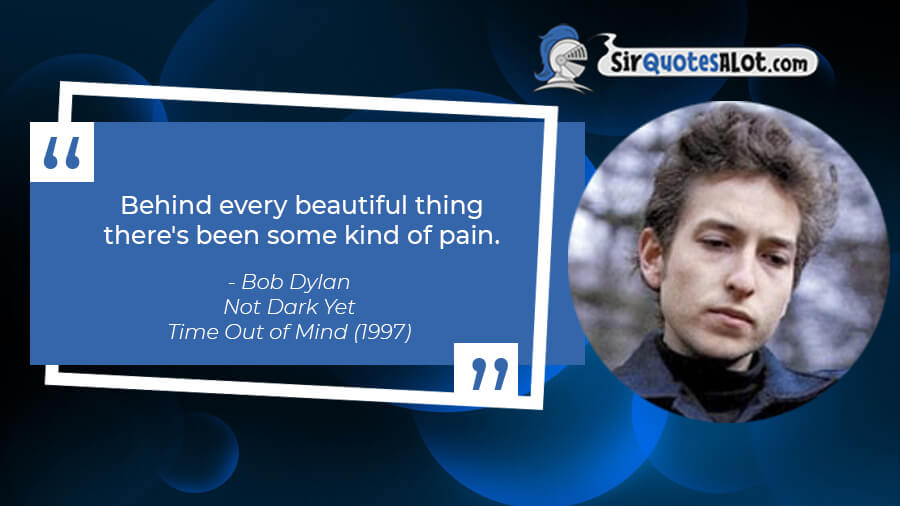 Behind every beautiful thing there's been some kind of pain.

Not Dark Yet, Time Out of Mind (1997)
I'm not sorry for nothin' I've done, I'm glad I fought – I only wish we'd won.

Honest with Me, Love and Theft (2001)
Sleep is like a temporary death.

Workingman's Blues #2, Modern Times (2006)
Well now what's the use in dreamin', you got better things to do. Dreams never did work for me anyway, even when they did come true.

I Feel a Change Comin' On, Together Through Life (2009)
Interesting Facts about Bob Dylan
Now, it's time to share some interesting facts about Bob Dylan. So, let's get to know a little bit better this great man.
He Conned His Way Being Part of a Band – After he graduated from high school, Dylan (then still Zimmerman) was working as a busboy at a café in Fargo, North Dakota. It was there during the job, that he talked his way to be part of The Shadows band, Dylan's first band to be. Basically, Dylan lied by saying that he had been touring with Conway Twitty (which he didn't) and that he just came back. The band members believed him and accepted him to their band.
He Was in a Fraternity – I know, this sounds nothing like the Bob Dylan we know, but it's true. Dylan was a part of Sigma Alpha Mu in the University of Minnesota and even lived in the fraternity house, since it was located near some local coffee shops and cafés, where Dylan used to perform, so it was very convenient for him.
Dylan's Life Wasn't So Stable at First – Before Bob Dylan recorded his first album, his life was a bit of a mess. He didn't have his own apartment and used to sleep on different couches in friends' houses. He used the money from his record deal to get himself a permanent place to live in, and it was in the West Village, 161 West 4th. The photo you see on Dylan's second album (The Freewheelin' Bob Dylan) was taken around the corner of his place.
His First Album Was Recorded in Two Afternoons – Dylan's first album was recorded pretty fast, as on November 20 and November 22, he and Hammond met at the studio in New York City and got the job done. 17 songs were recorded in total, all in one take. Dylan said in an interview that Hammond asked him if he wanted to sing again and make more takes, but Dylan refused since he can't see himself singing the same song twice in a row. And that's how all songs were recorded in one take.
Bob Dylan and Johnny Cash Supported Each Other – Back in 1962, when Bob Dylan was young and just beginning his journey in the music business, Columbia thought to release Bob Dylan and not continue working with him. Around that time, Dylan became friends with Johnny Cash who helped Dylan and convinced Columbia to stay with Dylan and not release him. In 1963, Dylan released his acclaimed album "The Freewheelin' Bob Dylan" which secured his spot in the music industry. The two continued to support each other for years later.
Bob Dylan's Girlfriend Was the Inspiration for Many of His Known Songs – Suze Rotolo dated Bob Dylan and was his girlfriend from 1961 to 1964. If you have a look at the cover of Dylan's album "The Freewheelin' Bob Dylan", you'll see the two. Apparently, she was the inspiration for may famous songs Dylan wrote. The song "The Ballad of Emmett Till" was inspired by a story Rotolo told Dylan, and that's just one example. Dylan also wrote songs about her, and they are: "Tomorrow Is a Long Time", "Boots of Spanish Leatherand, and "Don't Think Twice, It's All Right."
A Police Was Called on Bob Dylan Because Someone Thought He Was Loitering – In 2009, Bob Dylan wandered into a stranger's yard in New Jersey when he is all wet from the rain and a hood on his head. The owner of the home had no idea who this person was and immediately called the police who arrived and detained Dylan. The cops did not believe he was the famous Bob Dylan, until he accompanied them to the tour buses that were not too far away. When everything was settled, Dylan of course was again… freewheelin'…
For more quotes from famous articles, please visit our pages dedicated to Prince quotes, Beyoncé quotes, Neil Gaiman quotes, and Sylvia Plath quotes.