Beyoncé (real name: Beyoncé Giselle Knowles-Carter) is an American singer, songwriter, and actress. She is considered as one of the most successful singers and performers today, and in this article we share with you the most influential Beyoncé quotes.
Beyoncé started performing since she was a young child and competed in different dancing and singing competitions. In the late 1990s, the world really discovered her as she broke to fame as part of the successful group Destiny's Child, being the lead singer.
Destiny's Child had many hit songs, including No.1 hits like "Dangerously in Love", "Baby Boy", and "Crazy in Love". In 2006, the group decided to split and thus end its way. For Beyoncé, it was the beginning of what would be her huge success as a solo artist and performer.
Today, Beyoncé is one of the most best-selling record artists in the world, as she sold 120 million records worldwide. She is also the first solo artist that achieved the first six studio albums debut topping the Billboard 200.
If that's not enough, she was also recognized as Top Certified Artist of the Decade by the Recording Industry Association of America (RIAA), and has earned more money from any other black musician of all time. As for prizes, Beyoncé has won 28 Grammy Awards, 26 MTV Video Music Awards, 31 BET Awards, and more.
And now ladies and gentlemen, let's have a look and enjoy at some of the most memorable Beyoncé quotes.
Table of Contents
Beyoncé Quotes
If you are with the right person, it brings out the best version of you.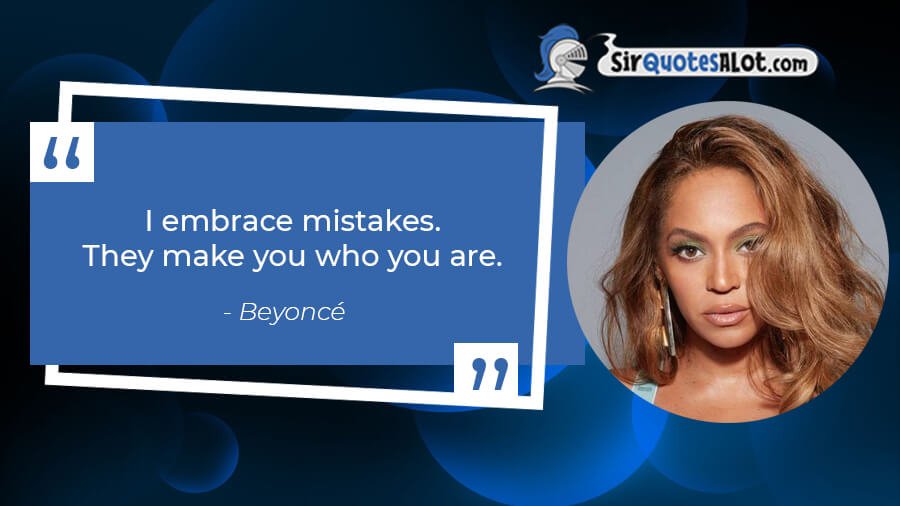 I embrace mistakes. They make you who you are.
Independence comes from you knowing who you are and you being happy with yourself.
A true diva is graceful and talented, and strong, and fearless and brave and someone with humility.
We are all the same and we all want the same things: the right to be happy, to be just who we want to be, and to love who we want to love.
I wanted to sell a million records, and I sold a million records. I wanted to go platinum, and I went platinum. I've been working nonstop since I was 15. I don't even know how to chill out.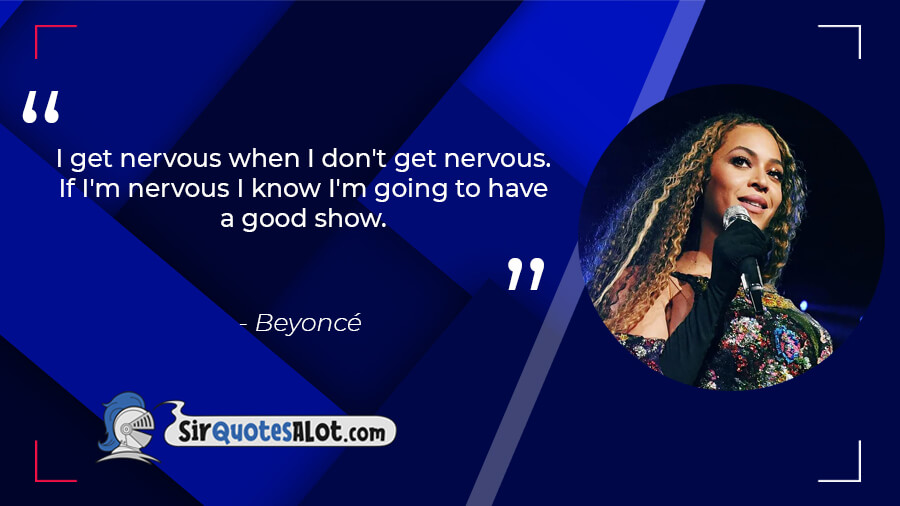 I get nervous when I don't get nervous. If I'm nervous I know I'm going to have a good show.
My daughter introduced me to myself.
I always try to be myself. Ever since I was an introverted kid, I'd get on stage and be able to break out of my shell.
If I weren't performing, I'd be a beauty editor or a therapist. I love creativity, but I also love to help others. My mother was a hairstylist, and they listen to everyone's problems – like a beauty therapist!
The reality is, sometimes you lose. And you're never too good to lose, you're never too big to lose, you're never too smart to lose, it happens.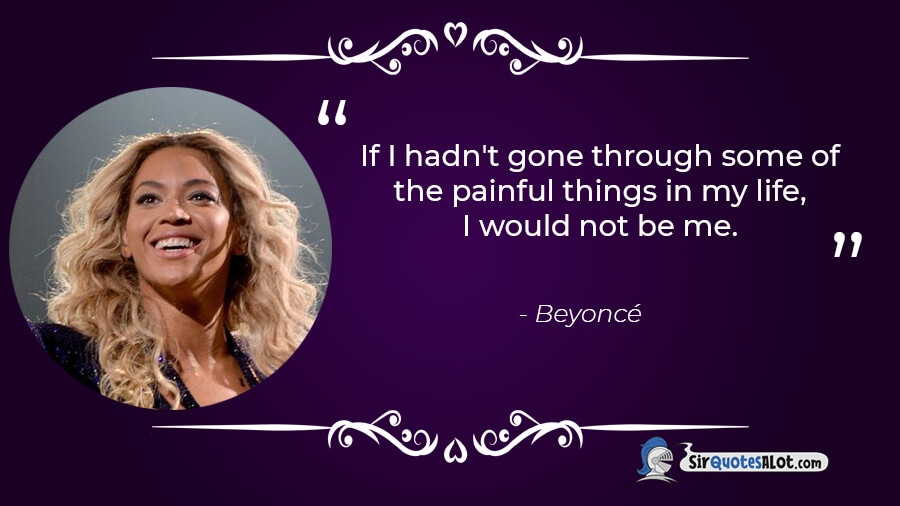 If I hadn't gone through some of the painful things in my life, I would not be me.
We need to reshape our own perception of how we view ourselves. We have to step up as women and take the lead.
I hold a lot of things in. I'm always making sure everybody is okay. I usually don't rage; I usually don't curse. So, for me, it's a great thing to be able to scream and say whatever I want.
I can never be safe; I always try and go against the grain. As soon as I accomplish one thing, I just set a higher goal. That's how I've gotten to where I am.
I love my job, but it's more than that: I need it.
Why do you have to choose what type of woman you are? Why do you have to label yourself anything?
I think I've realized that business and being polite [don't] match. You can be fair, but me being polite was not me being fair to myself.
One of the things that kept me out of trouble was doing something creative – creativity can't be judged.
You can't put your finger on who I am. I can't put my finger on who I am.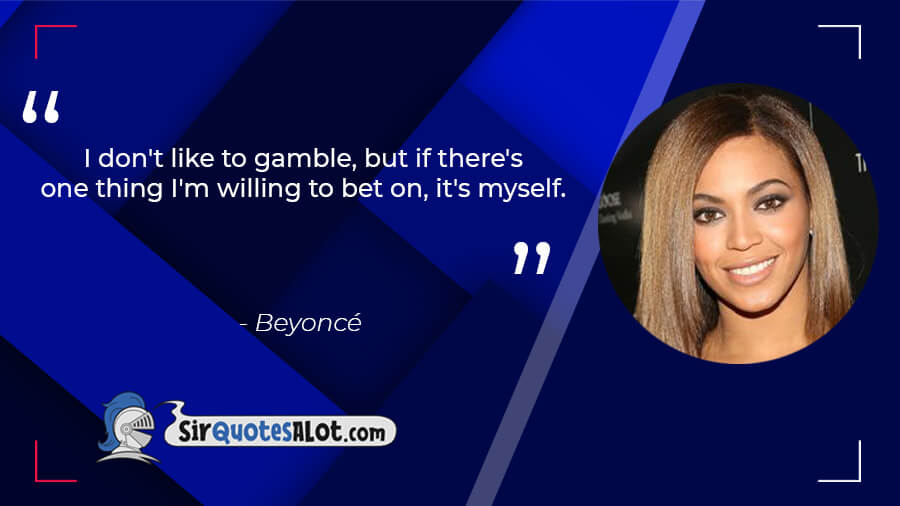 I don't like to gamble, but if there's one thing I'm willing to bet on, it's myself.
I only allow myself one day to feel sorry for myself. When I'm not feeling my best I ask myself, 'What are you gonna do about it?' I use the negativity to fuel the transformation into a better me.
My focus is my art, and that's what I love to do. I have to be really passionate in order to do something. I've turned down many things that I just didn't believe in.
I'm learning how to drown out the constant noise that is such an inseparable part of my life. I don't have to prove anything to anyone, I only have to follow my heart and concentrate on what I want to say to the world. I run my world.
I don't feel like I have to please anyone. I feel free…I feel like I'm an adult…. I'm grown…. I can do what I want…. I can say what I want…. I can retire if I want. That's why I've worked hard.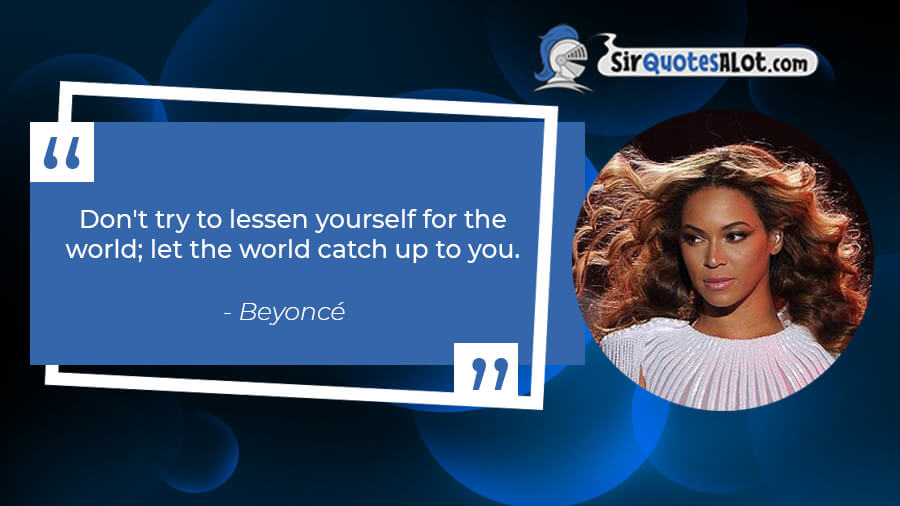 Don't try to lessen yourself for the world; let the world catch up to you.
I can never be safe; I always try and go against the grain. As soon as I accomplish one thing, I just set a higher goal. That's how I've gotten to where I am.
It's easy to hear the voices of others and often very difficult to hear your own. Every person you meet is going to want something different from you. The question is: what do you want for yourself?
You know, equality is a myth, and for some reason, everyone accepts the fact that women don't make as much money as men do. I don't understand that. Why do we have to take a backseat?
If you work hard, whatever you want, it will come to you. I know that's easier said than done, but keep trying.
Power means happiness; power means hard work and sacrifice.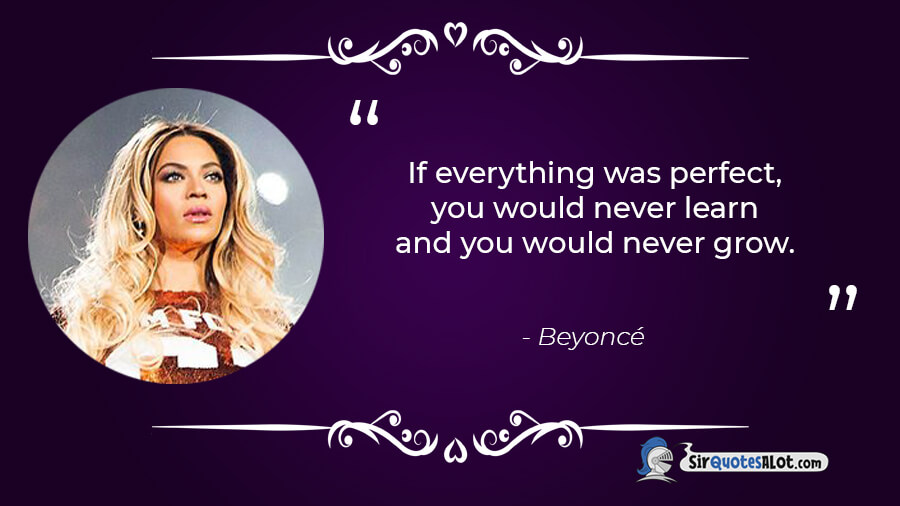 If everything was perfect, you would never learn and you would never grow.
I know I'm stronger in the songs than I really am. Sometimes I need to hear it myself. We all need to hear those empowering songs to remind us.
My biggest thing is to teach not to focus on the aesthetic. It's really about who you are, and the human being, that makes you beautiful.
Do what you were born to do. You just have to trust yourself.
Spread positivity; don't matter how big, or how small.
You can't appreciate the good times without the bad ones.
I'm a workaholic and I don't believe in 'No'. If I'm not sleeping, nobody's sleeping
The most alluring thing a woman can have is confidence.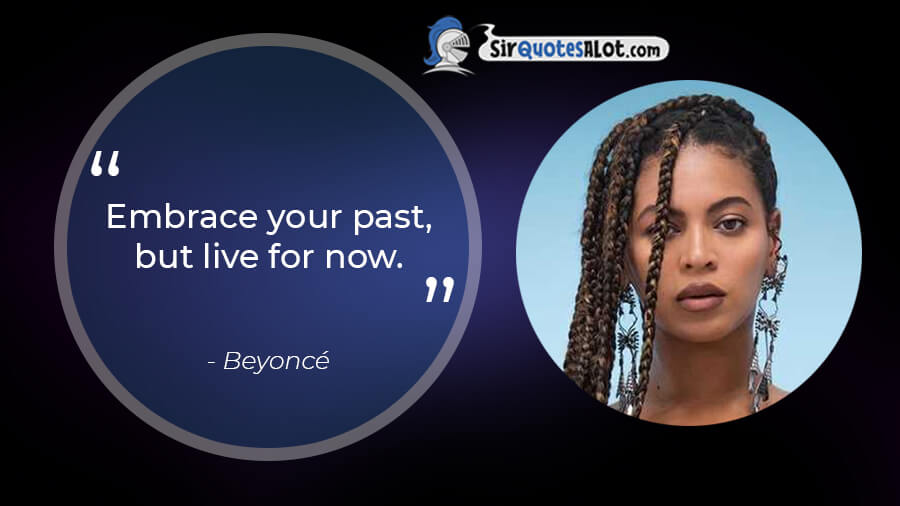 Embrace your past, but live for now.
I truly believe that women should be financially independent from their men. And let's face it, money gives men the power to run the show…. it gives men the power to define value…they define what's sexy. And men define what's feminine… It's ridiculous.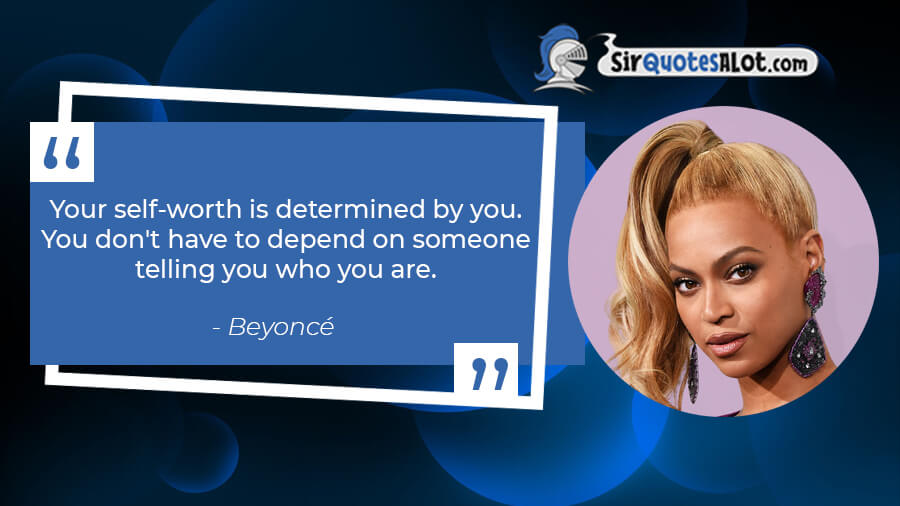 Your self-worth is determined by you. You don't have to depend on someone telling you who you are.
We have to teach our boys the rules of equality and respect so that as they grow up gender equality becomes a natural way of life. And we have to teach our girls that they can reach as high as humanly possible.
Women have to take the time to focus on our mental health — take time for self, for the spiritual, without feeling guilty or selfish.
When you love and accept yourself, when you know who really cares about you, and when you learn from your mistakes, then you stop caring about what people who don't know you think.
I think it's healthy for a person to be nervous. It means you care – that you work hard and want to give a great performance. You just have to channel that nervous energy into the show.
Take the time to define yourself and define your value. If you're having a hard time doing that, ask yourself: What is something I would say to someone I love?
A woman is most beautiful when she smiles.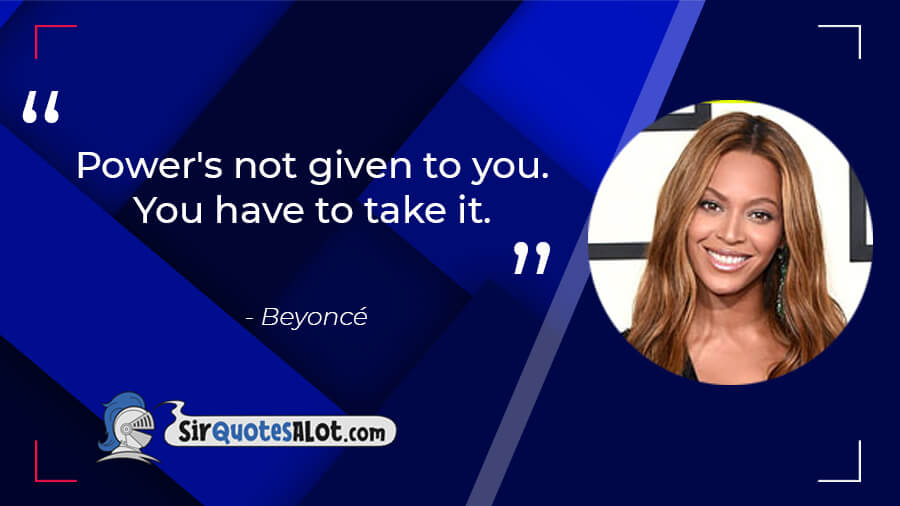 Power's not given to you. You have to take it.
Be healthy and take care of yourself, but be happy with the beautiful things that make you, you.

In my videos, I always want to be a powerful woman. That's my mission.
I'm over being a pop star. I don't wanna be a hot girl. I wanna be iconic.
The more you mature, you realize that these imperfections make you more beautiful.
Men and women balance each other out, and we have to get to a point where we are comfortable with appreciating each other.
I felt like it was time to set up my future, so I set a goal. My goal was independence.
If you don't take the time to think about and analyse your life, you'll never realize all the dots that are all connected.
Who I am on stage is very, very different to who I am in real life.
You have to have something that is forever, something that is invisible.
My message behind 'Beyoncé' was finding the beauty in imperfection.
My parents taught my sister and me the importance of giving back and making a difference in another person's life.
We all have our purpose, we all have our strengths.
Have your own life before you become somebody's wife.
Everyone's not good at everything, it's OK to depend on someone.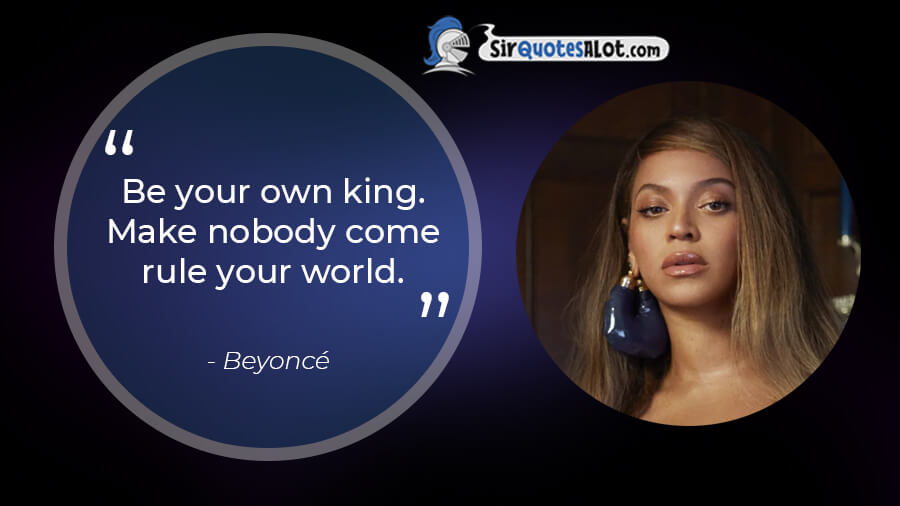 Be your own king. Make nobody come rule your world.
Take all the rules away. How can we live if we don't change?
Humanity requires both men and women and we are equally important and need one another.
Beyoncé Quotes from Songs
What goes around comes back around.

– Best Thing I Never Had, 4 (2011)
Who runs the world? Girls.

– Run the World (Girls), 4 (2011)
I'm bigger than life. My name in the lights, I'm the number one check. I don't need no hype.

Bow Down/I Been On, Homecoming: The Live Album (2019)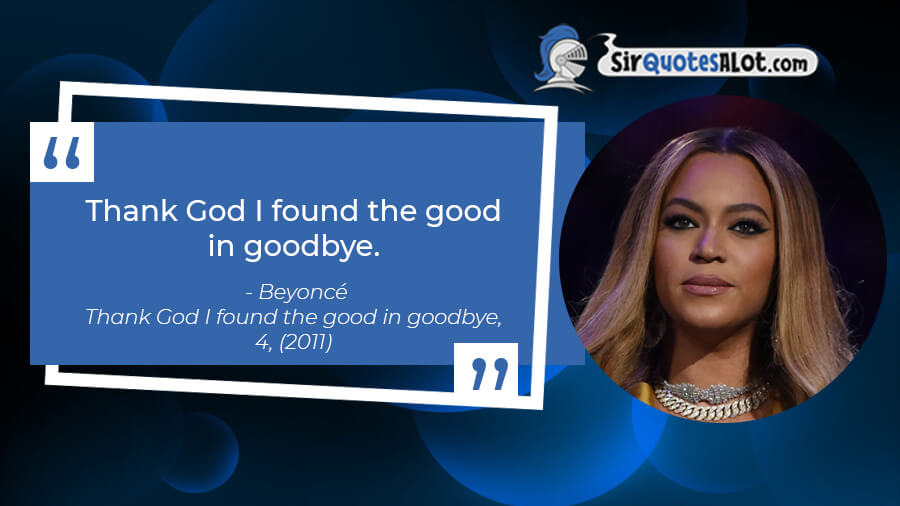 Thank God I found the good in goodbye.

Thank God I found the good in goodbye, 4, (2011)
Nine times out of ten, I'm in my feelings. Ten times out of nine, I'm only human.

Love Drought, Beyoncé: Lemonade (2016)
The truth of the matter is that replacing you is so easy.

Irreplaceable, B'Day (2006)
There's ups and downs in this love. Got a lot to learn in this love. Through the good and the bad, still got love.

Countdown, 4 (2011)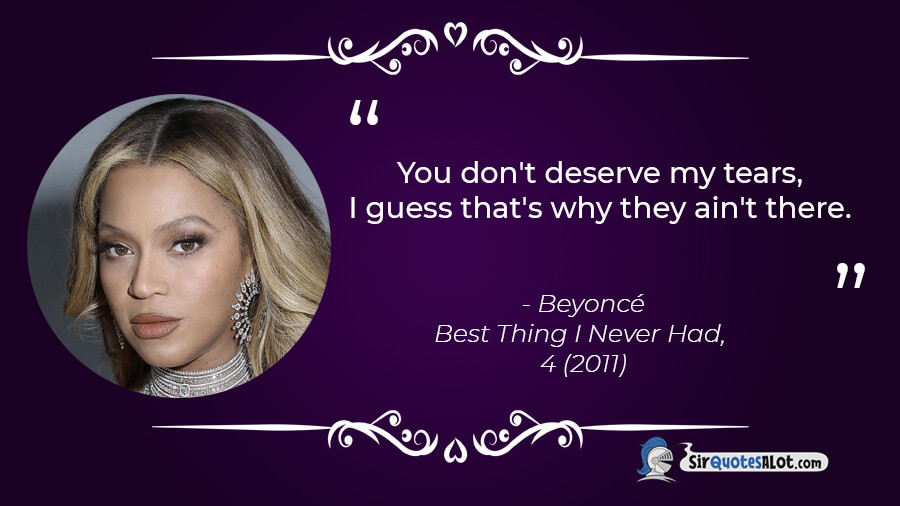 You don't deserve my tears, I guess that's why they ain't there.

Best Thing I Never Had, 4 (2011)
I wake up looking this good and I wouldn't change it if I could.

Flawless, Beyoncé: Platinum Edition (2014)
Pretty hurts, we shine the light on whatever's worst We try to fix something but you can't fix what you can't see It's the soul that needs the surgery.

Pretty Hurts, Beyoncé (2013)
I can talk like this 'cause I can back it up.

Ego, I Am… Sasha Fierce (2008)
Hit me like a ray of sun. Burning through my darkest night. You're the only one that I want. Think I'm addicted to your light.

Halo, I Am… Sasha Fierce (2008)
I see it, I want it, I stunt, yellow-bone it. I dream it, I work hard, I grind 'til I own it.

Formation, Beyoncé: Lemonade (2016)
Cause he's taken you for granted. And everything you had got destroyed.

If I Were a Boy, If I Were a Boy (2008)
Of life on fertile ground, ancestors put me on game.

Black Parade, The Lion King (2019)
Last thing I remember is our beautiful bodies grindin' up in that club. Drunk in love.

Drunk in Love, Beyoncé (2013)
Give you some time to prove that I can trust you again.

All Night, Beyoncé: Lemonade (2016)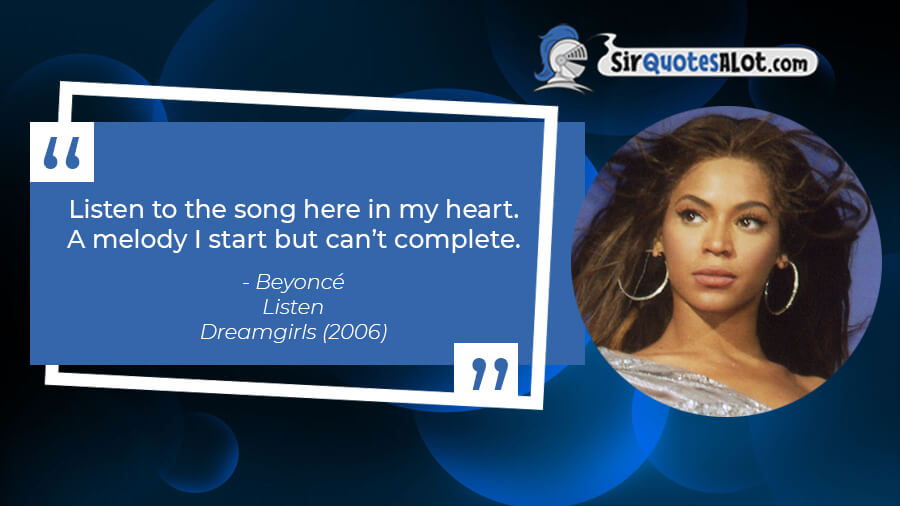 Listen to the song here in my heart. A melody I start but can't complete.

Listen, Dreamgirls (2006)
Our love was stronger than your pride. Beyond your darkness, I'm your light.

All Night, Beyoncé: Lemonade (2016)
I pray to the Lord you reveal what his truth is. I left a note in the hallway. By the time you read it, I'll be far away.

Sorry, Beyoncé: Lemonade (2016)
Interesting Facts about Beyoncé
Now, let's have a look at some interesting facts about Beyoncé.
She Won a Talent Show with Competitors Twice Her Age – At the age of 7, Beyoncé performed with the song "Imagine" by John Lennon and won a talent show against competitors older than her. She even got a standing ovation for her performance. This win made her father enlist her to more competitions, where she even won 35 in a row.
An Interesting Vocal Training – Her father had her running a mile and singing at the same time. According to him, this would help her both with her singing and dancing at the same time. Years later, Beyoncé continued this routine in order to build her stamina. Once during training, she even sang the entire "In The Georgia Heat" album.
The Alter Ego to Overcome Stage Fright – Beyoncé created an alter ego named Sasha Fierce in order to overcome stage fright. She even called one of her albums by the name of her alter ego. In 2010, she said she's done with it and is back to just being Beyoncé.
She Has a Favourite Karaoke Song – Whenever she sings karaoke, she goes straight to "Hotel California" by the Eagles. She just loves the guitar solo during the song. Another karaoke song Beyoncé is fond of is "Escape" by Rupert Holmes, or as we all know it – The Piña Colada Song.
Art is Her Passion – Believe it or not, but Beyoncé just loves art. So much, that she visited the Louvre museum in Paris no less than 4 times in 10 years, and even rented out the entire building with her husband Jay-Z, to film the music video for their song "Apesh*t."
She Could Have Had the Lead Role in "A Star Is Born" – Before Lady Gaga scored the lead role in the movie "A Star Is Born", it was Beyoncé who was asked to play the role. However, due to scheduling conflicts, this was not possible, and so Gaga got the lead instead.
Beyoncé Donated Her Salary to a Drug Treatment Center – Beyoncé acted in the film "Cadillac Records" and decided to donate her salary from the movie to a Phoenix House, which is a drug treatment center. She spent some time in one of their facilities in order to prepare for her role as Etta James in the movie, and that had a real impact on her.
An Announcement She Made Broke an Instagram Record – In 2017, Beyoncé had published a photograph of herself sitting on her knees in front of a floral wreath with her hands placed on her pregnant belly. Only 8 hours after publication, this photo received more than 6.3 million likes, beating the previous record that belonged to singer Selena Gomez. This new record was later broken again by a post from Kylie Jenner, but to this day, the post and photo by Beyoncé had accumulated more than 11 million likes.
One of Her Albums Broke the Record for Fastest-Selling Albums on iTunes – Her 2013 album titled "Beyoncé" sold more than 800,000 copies all over the world in only 3 days, which broke the record for best-selling albums on iTunes.
There is a Fly Named After Her Name – In 2012, researchers have discovered a new fly species and decided to name it "Scaptia (Plinthina) beyonceae" after the singer's name. The reason? Due to the fly's vibrant, golden mane on its abdomen.
For more quotes from famous creators and musicians, please check out our pages dedicated to Prince quotes, Neil Gaiman quotes, Sylvia Plath quotes, and Jane Austen quotes.