Jane Austen was born on 16 December, 1775, in Steventon Rectory, Hampshire, England. She was a world-famous novelist. In this this article, we are sharing with you the best Jane Austen quotes.
In her work, Austen often explores women's dependence in marriage, as they seek for a favourable social standing as well as an economic security. Her works are characterized with biting irony, humour, realism, and social commentary. She is most known for six major novels: Sense and Sensibility (1811), Pride and Prejudice (1813), Mansfield Park (1814) and Emma (1816). Two of her other novels, Northanger Abbey and Persuasion, were published in 1818 after she died.
Austen's novels have inspired many movies and TV adaptations, such as Sense and Sensibility (1995), Emma (1996), Mansfield Park (1999), Pride & Prejudice (2005), Love & Friendship (2016), Emma (2020), and more.
Jane Austen died on 18 July, 1817 in Winchester due to illness she had suffered from. She was 41 years old at her death.
Here is a sneak peek at the quotes in this article:
Table of Contents
Jane Austen Quotes on Love
It is not time or opportunity that is to determine intimacy; it is disposition alone. Seven years would be insufficient to make some people acquainted with each other, and seven days are more than enough for others.
In vain have I struggled. It will not do. My feelings will not be repressed. You must allow me to tell you how ardently I admire and love you.
When I fall in love, it will be forever.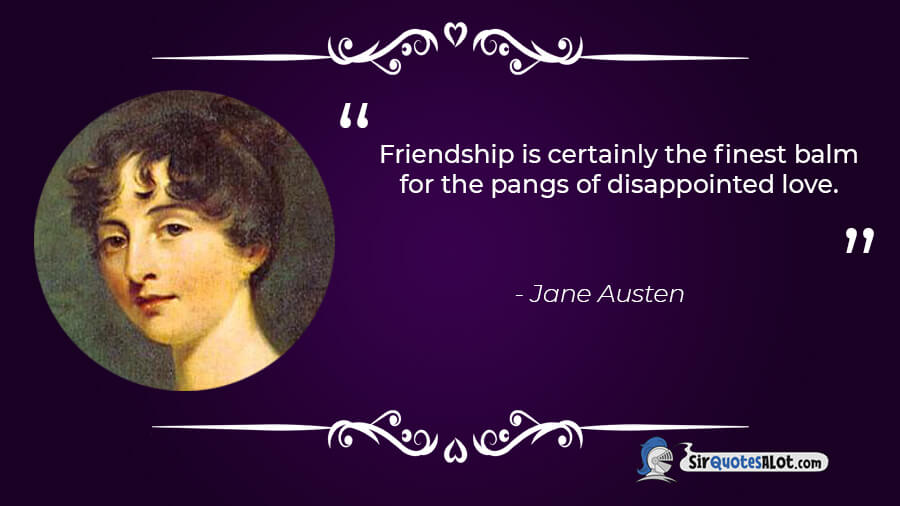 Friendship is certainly the finest balm for the pangs of disappointed love.
Know your own happiness. You want nothing but patience — or give it a more fascinating name, call it hope.
A man does not recover from such devotion of the heart to such a woman! He ought not; he does not.
For my own part, I care so little about the ball that it would be no sacrifice to me to give it up for the sake of seeing you two days earlier.
If I loved you less, I might be able to talk about it more.
I can listen no longer in silence. I must speak to you by such means as are within my reach. You pierce my soul. I am half agony, half hope. Tell me not that I am too late, that such precious feelings are gone forever. I offer myself to you again with a heart even more your own… I have loved none but you.
It must be very improper that a young lady should dream of a gentleman before the gentleman is first known to have dreamt of her.
She was feeling, thinking, trembling about everything; agitated, happy, miserable, infinitely obliged, absolutely angry.
If I could but know his heart, everything would become easy.
The mere habit of learning to love is the thing; and a teachableness of disposition in a young lady is a great blessing.
Could there be finer symptoms? Is not general incivility the very essence of love?
I've come here with no expectations, only to profess, now that I am at liberty to do so, that my heart is, and always will be, yours.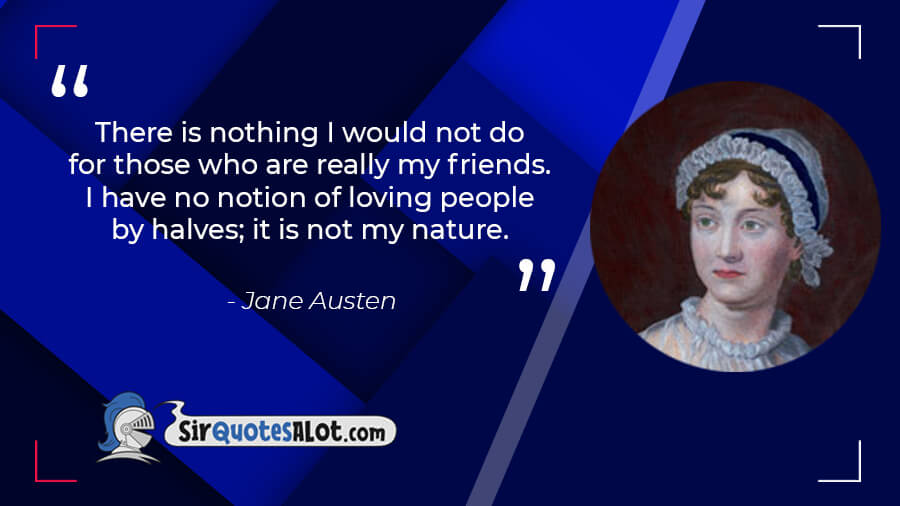 There is nothing I would not do for those who are really my friends. I have no notion of loving people by halves; it is not my nature.
Give a loose to your fancy, indulge your imagination in every possible flight…
I cannot fix on the hour, or the spot, or the look or the words, which laid the foundation. It is too long ago. I was in the middle before I knew that I had begun.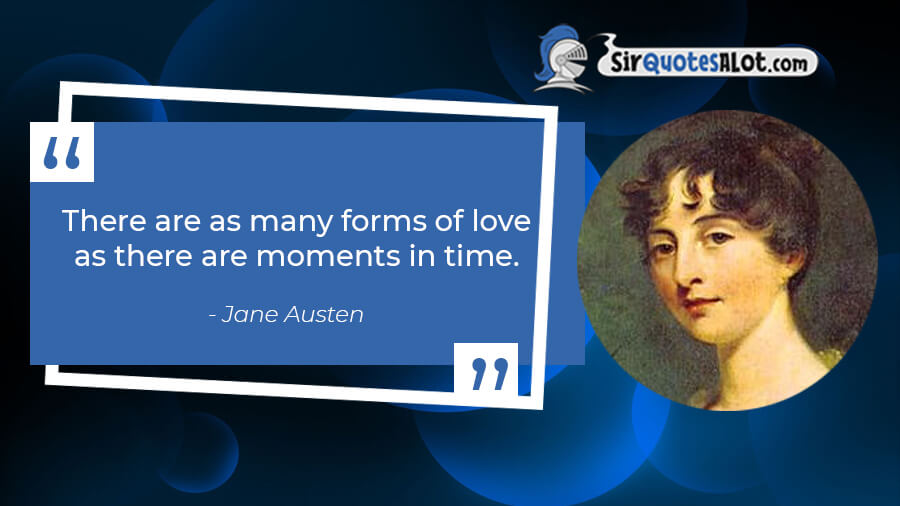 There are as many forms of love as there are moments in time.
There could have been no two hearts so open, no tastes so similar, no feelings so in unison.
Her heart did whisper that he had done it for her. But it was a hope shortly checked by other considerations, and she soon felt that even her vanity was insufficient, when required to depend on his affection for her—for a woman who had already refused him…
To be fond of dancing was a certain step towards falling in love.
A lady's imagination is very rapid; it jumps from admiration to love, from love to matrimony in a moment.
The more I know of the world, the more I am convinced that I shall never see a man whom I can really love. I require so much!
The Very first moment I beheld him, my heart was irrevocably gone.
It is a truth universally acknowledged, that a single man in possession of a good fortune, must be in want of a wife.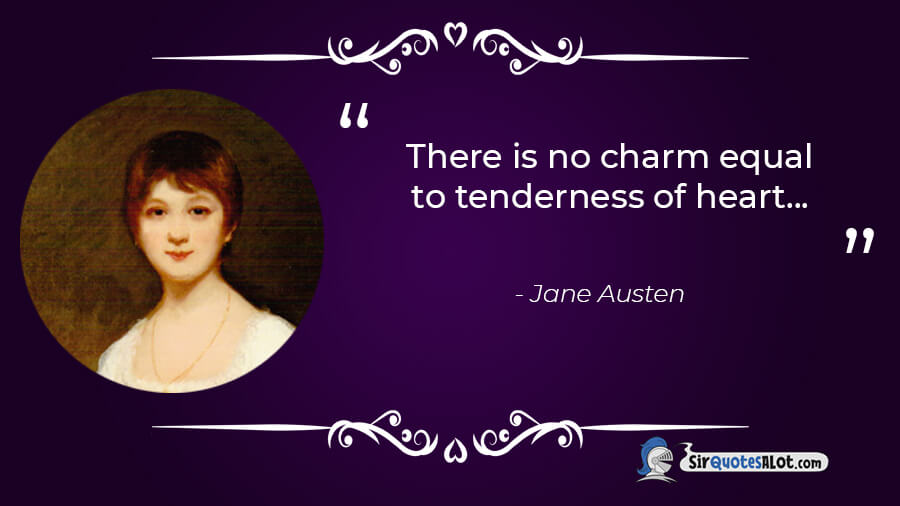 There is no charm equal to tenderness of heart…
We are all fools in love.
I knew that we should either go to the bottom together or that she would be the making of me.
Jane Austen Quotes on Life
One half of the world cannot understand the pleasures of the other.
For what do we live, but to make sport for our neighbours, and laugh at them in our turn?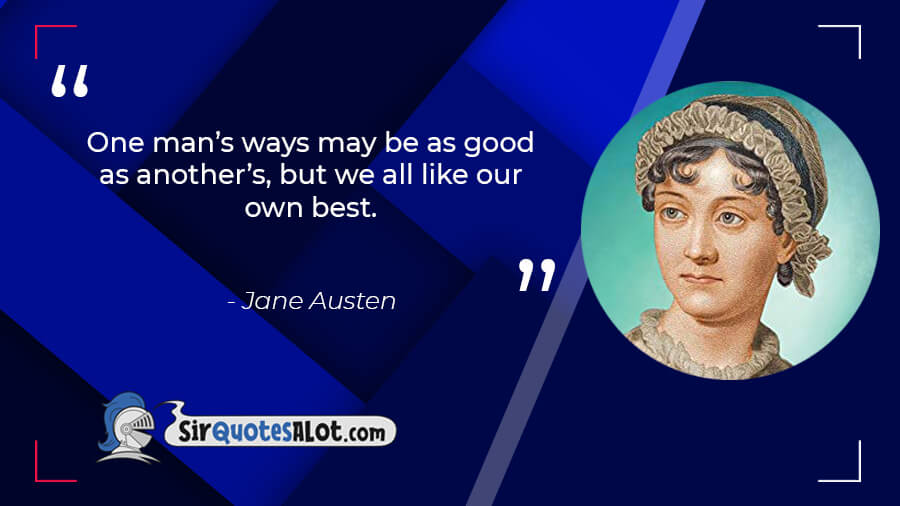 One man's ways may be as good as another's, but we all like our own best.
How wonderful, how very wonderful the operations of time, and the changes of the human mind!
A large income is the best recipe for happiness I ever heard of.
I do not want people to be very agreeable, as it saves me the trouble of liking them a great deal.
Where people are really attached, poverty itself is wealth.
Vanity working on a weak head produces every sort of mischief.
At nineteen, you know, one does not think very seriously.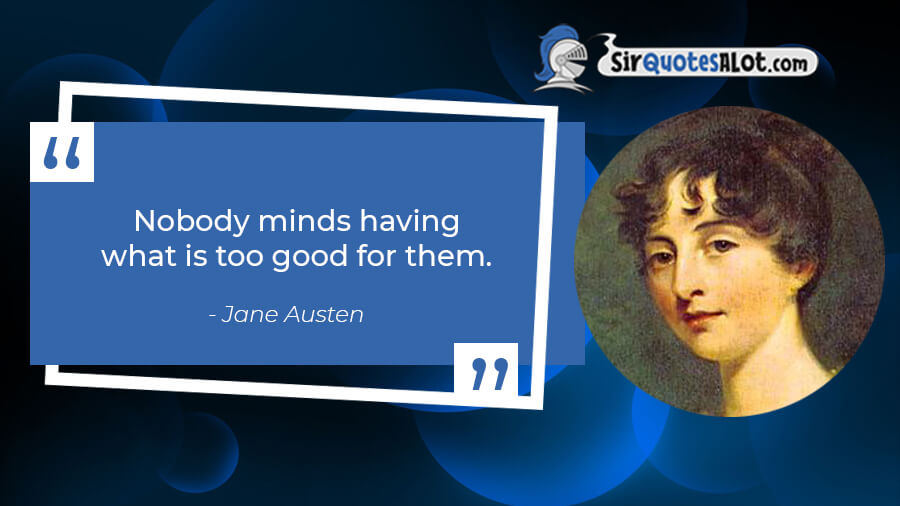 Nobody minds having what is too good for them.
But people themselves alter so much, that there is something new to be observed in them forever.
It is particularly incumbent on those who never change their opinion, to be secure of judging properly at first.
I wish, as well as everybody else, to be perfectly happy; but, like everybody else, it must be in my own way.
There is a stubbornness about me that never can bear to be frightened at the will of others. My courage always rises at every attempt to intimidate me.
Know your own happiness. You want nothing but patience – or give it a more fascinating name, call it hope.
It isn't what we say or think that defines us, but what we do.
It is a truth universally acknowledged, that a single man in possession of a good fortune, must be in want of a wife.
People get so horridly poor and economical in this part of the world, that I have no patience with them… Kent is the only place for happiness
Surprises are foolish things. The pleasure is not enhanced, and the inconvenience is often considerable.
Selfishness must always be forgiven, you know, because there is no hope of a cure.
Everybody likes to go their own way—to choose their own time and manner of devotion.
I am very strong. Nothing ever fatigues me, but doing what I do not like.
To flatter and follow others, without being flattered and followed in turn, is but a state of half enjoyment.
I always deserve the best treatment because I never put up with any other.
Happiness in marriage is entirely a matter of chance.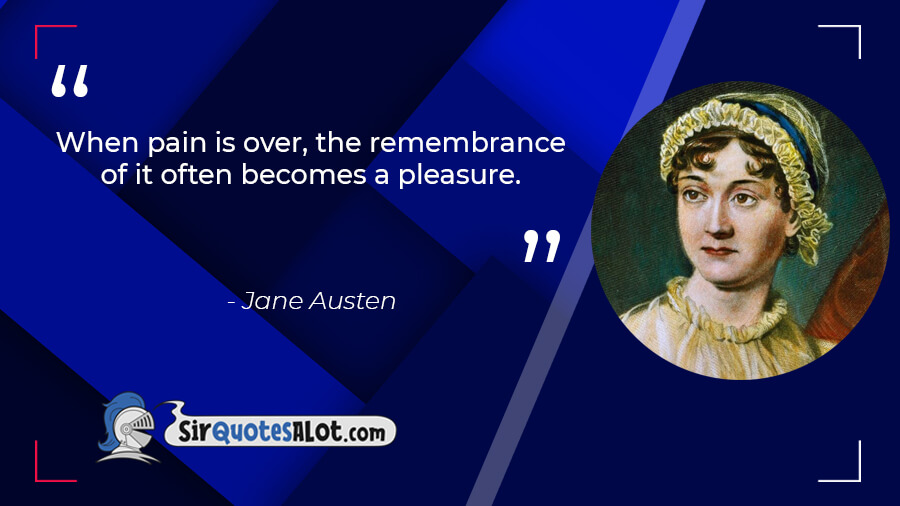 When pain is over, the remembrance of it often becomes a pleasure.
When people are waiting, they are bad judges of time, and every half-minute seems like five.
A watch is always too fast or too slow. I cannot be dictated to by a watch.
What wild imaginations one forms where dear self is concerned! How sure to be mistaken!
Without music, life would be a blank to me.
Husbands and wives generally understand when opposition will be vain.
If one scheme of happiness fails, human nature turns to another; if the first calculation is wrong, we make a second better: we find comfort somewhere.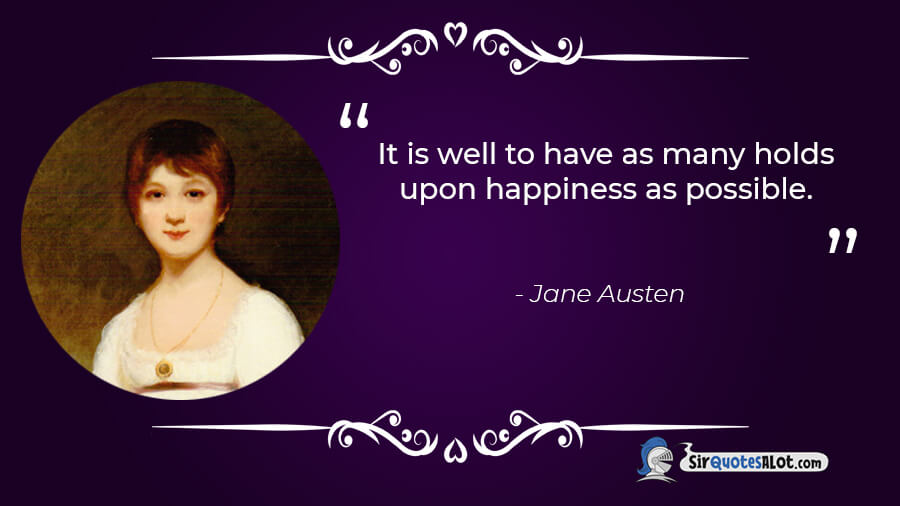 It is well to have as many holds upon happiness as possible.
The truth is, that in London it is always a sickly season. Nobody is healthy in London, nobody can be.
I hate tiny parties; they force one into constant exertion.
Better be without sense than misapply it as you do.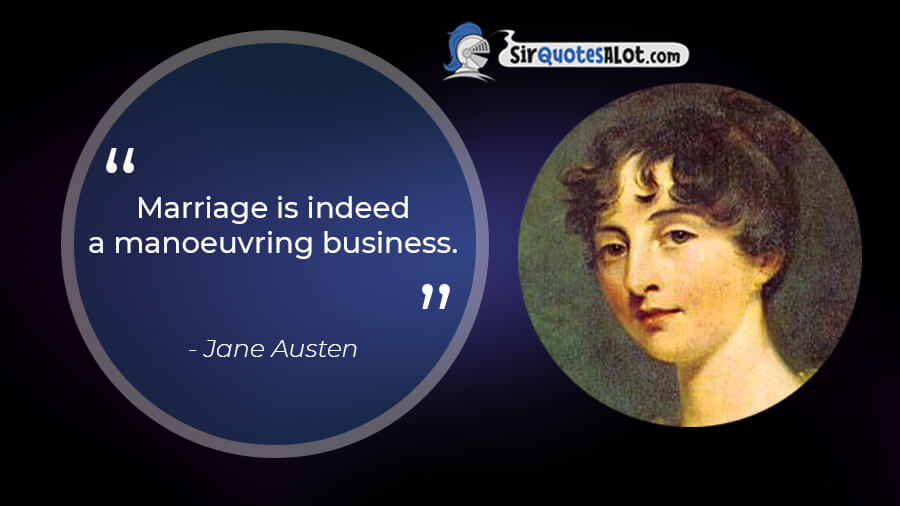 Marriage is indeed a manoeuvring business.
Why not seize pleasure at once? How often is happiness destroyed by preparation, foolish preparation!
I must learn to be content with being happier than I deserve.
Vanity and pride are different things, though the words are often used synonymously. A person may be proud without being vain. Pride relates more to our opinion of ourselves, vanity to what we would have others think of us.
Think only of the past as its remembrance gives you pleasure.
There are people, who the more you do for them, the less they will do for themselves.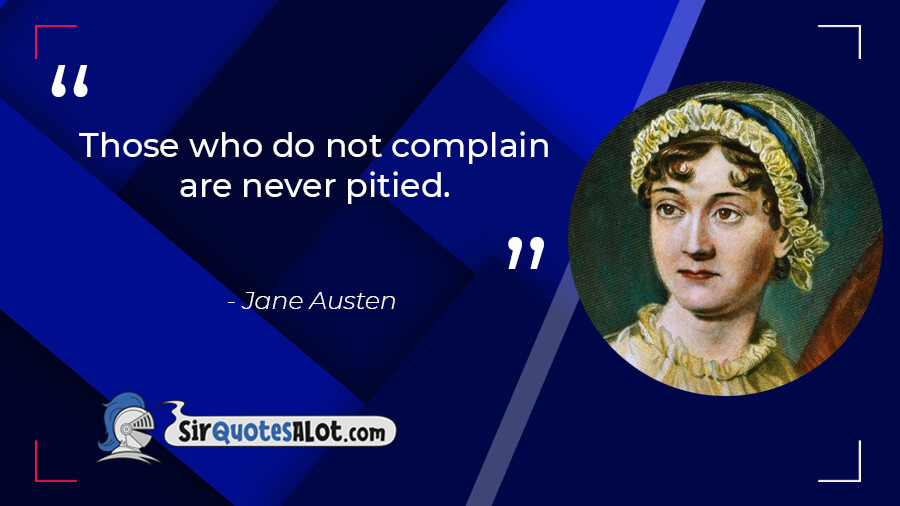 Those who do not complain are never pitied.
One cannot be always laughing at a man without now and then stumbling on something witty.
Silly things do cease to be silly if they are done by sensible people in an impudent way.
I could easily forgive his pride, if he had not mortified mine.
To sit in the shade on a fine day, and look upon verdure is the most perfect refreshment.
People always live for ever when there is an annuity to be paid them.
What praise is more valuable than the praise of an intelligent servant?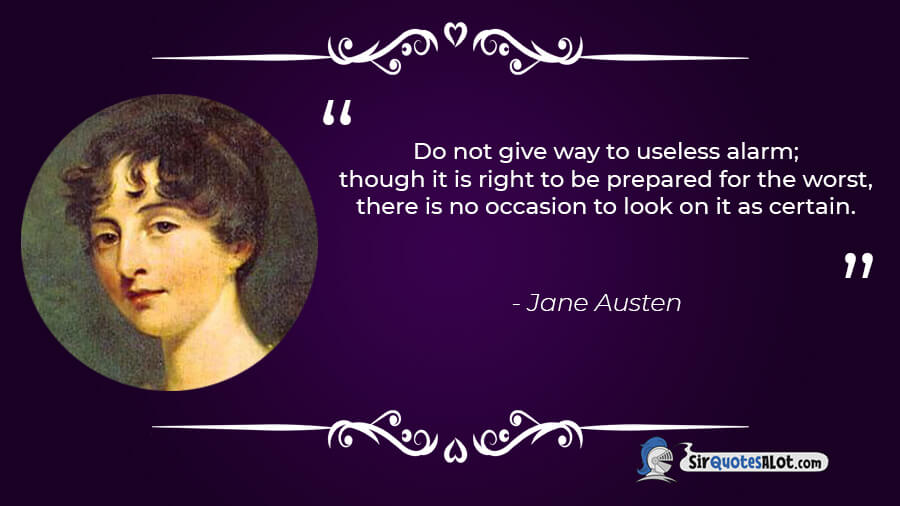 Do not give way to useless alarm; though it is right to be prepared for the worst, there is no occasion to look on it as certain.
Seldom, very seldom, does complete truth belong to any human disclosure; seldom can it happen that something is not a little disguised or a little mistaken.
Jane Austen Quotes on Women
There are certainly not so many men of large fortune in the world, as there are pretty women to deserve them.
Good-humoured, unaffected girls, will not do for a man who has been used to sensible women. They are two distinct orders of being.
It is always incomprehensible to a man that a woman should ever refuse an offer of marriage.
Mary wished to say something very sensible, but knew not how.
A lady, without a family, was the very best preserver of furniture in the world.
It would be mortifying to the feelings of many ladies, could they be made to understand how little the heart of a man is affected by what is costly or new in their attire.
Single women have a dreadful propensity for being poor. Which is one very strong argument in favour of matrimony.
No man is offended by another man's admiration of the woman he loves; it is the woman only who can make it a torment.
It sometimes happens that a woman is handsomer at twenty-nine than she was ten years before.
I hate to hear you talk about all women as if they were fine ladies instead of rational creatures. None of us want to be in calm waters all our lives.
A woman, especially if she has the misfortune of knowing anything, should conceal it as well as she can.
Laugh as much as you choose, but you will not laugh me out of my opinion.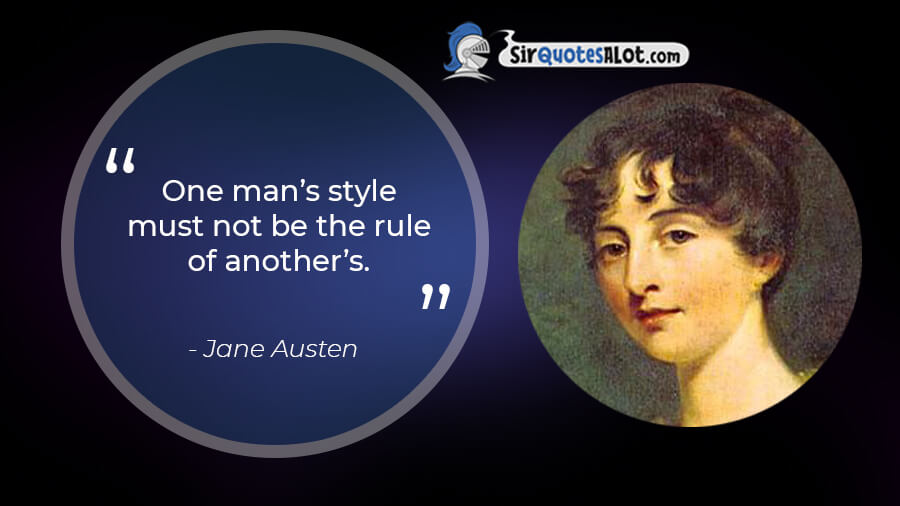 One man's style must not be the rule of another's.
I do not think I ever opened a book in my life which had not something to say upon woman's inconstancy. Songs and proverbs, all talk of woman's fickleness. But perhaps you will say, these were all written by men.
Give a girl an education and introduce her properly into the world, and ten to one but she has the means of settling well, without further expense to anybody.
To look almost pretty is an acquisition of higher delight to a girl who has been looking plain for the first fifteen years of her life than a beauty from her cradle can ever receive.
An engaged woman is always more agreeable than a disengaged. She is satisfied with herself. Her cares are over, and she feels that she may exert all her powers of pleasing without suspicion. All is safe with a lady engaged: no harm can be done.
He is a gentleman, and I am a gentleman's daughter. So far we are equal.
Jane Austen Quotes on Writing and Reading
A person who can write a long letter with ease, cannot write ill.
I am very much flattered by your commendation of my last letter, for I write only for fame, and without any view to pecuniary emolument.
Such a letter was not soon to be recovered from.
I wrote without much effort; for I was rich, and the rich are always respectable, whatever be their style of writing.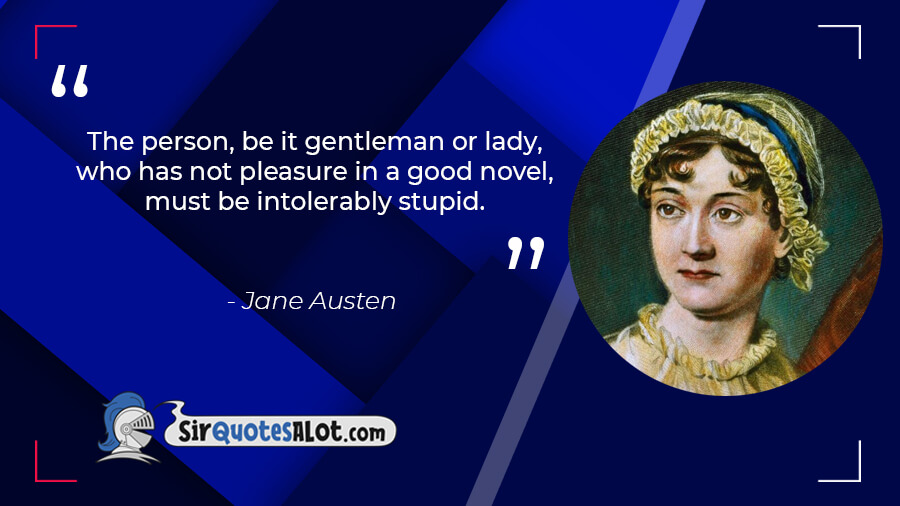 The person, be it gentleman or lady, who has not pleasure in a good novel, must be intolerably stupid.
I declare after all there is no enjoyment like reading! How much sooner one tires of anything than of a book! — When I have a house of my own, I shall be miserable if I have not an excellent library.
I am not at all in a humour for writing; I must write on till I am.
Let us leave it to the reviewers to abuse such effusions of fancy at their leisure, and over every new novel to talk in threadbare strains of the trash with which the press now groans. Let us not desert one another; we are an injured body.
It is only a novel… or, in short, only some work in which the greatest powers of the mind are displayed, in which the most thorough knowledge of human nature, the happiest delineation of its varieties, the liveliest effusions of wit and humour, are conveyed to the world in the best-chosen language.
Interesting Facts about Jane Austen
Here are some interesting facts about Jane Austen that may surprise you.
Her Novels Were Published Anonymously – Austen lived at a time when women were expected to be at home, being mothers and wives. The field of writing was dominated by men and so, Austen had to publish her work anonymously. Her first novel, "Sense and Sensibility", was published by "A Lady", and her other works were credited to "the Author of Sense and Sensibility."
Child Writer – Jane Austen began writing when she was only 12 years old. When she was 16, she even wrote parodies, and her work concentrated more on humor. When she was 23, she began working on what would become some of her most famous novels, "Sense and Sensibility", "Pride and Prejudice" and "Northanger Abbey."
She Was Educated by Her Father – Austen and her sister were sent in 1793 to live with their aunt and to be educated by her. Later on, they went to study at Abbey School, a boarding school for girls. However, a lot of her time, Austen was educated by her father, who had a huge library and it is said that Austen just loved to read a lot. Her father even tried to help her publish her work, but no one agreed to. Eventually, Austen decided to pay a publisher in order to publish her work and agreed to pay him commission for every copy that was sold.
She Even Brewed Her Own Beer – At that time, almost everyone in England drank beer, although I'm not sure if things are any different these days. Austen, along with her family knew how to brew their own beer made with molasses. That means that Austen not only brew her own beer, but also made it taste sweeter as well.
She Didn't write for 10 Years – By the year 1801, Jane Austen had written 3 novels, but then a few years before her father passed away in 1805, Austen stopped writing. It is claimed that when Austen's father retired, he decided to move with the family to Bath, England, and Jane was not too pleased with that decision. When her father died, the family began to move more often, and so it is believed that Jane did not find a comfortable place and time to write. Only 10 years later, after they have settled in their new place, Jane resumed writing.
She Dedicated a Novel to a Person She Actually Hated – In a letter Austen wrote, she said that she did not like the way that Prince Regent treated Caroline, his estranged wife. With that said, her novel "Emma" is dedicated for some reason to the Prince. In 1815, Austen treated her sick brother, and the doctor who came to see her brother also happened to be the Prince's doctor. When he found out that Jane was the author of Pride and Prejudice, he told her that the Prince was a huge fan of her work. The doctor told the Prince about Austen, who was invited for a tour at the Prince's library, and while she was there, she was told that she can dedicate one of her novels to the Prince, if she wished to. Let's just say that you don't say no to the Prince ,and this so-called offer was more an order. And so, Austen decided to dedicate her novel "Emma" to Prince Regent.
For more empowering quotes from famous authors, see our articles on Sylvia Plath quotes, Emily Dickinson quotes, and Neil Gaiman quotes.