"Cobra Kai" is a popular martial arts drama series that first premiered on YouTube Red (now YouTube Premium) in 2018. Starting from 3rd season, the show moved to Netflix, where it became one of the most streamed shows in Netflix's history.
Created by Jon Hurwitz, Hayden Schlossberg, and Josh Heald, the show is a continuation of the "Karate Kid" franchise and follows the story of Daniel LaRusso (Ralph Macchio) and Johnny Lawrence (William Zabka) as they rekindle their rivalry in their adult years. The series also stars Xolo Maridueña, Mary Mouser, Tanner Buchanan, Martin Kove, and others.
In this article, we will share the most exciting and memorable Cobra Kai quotes. Enjoy the ride!
Some of the quotes appear in the following video:
Table of Contents
Johnny Lawrence Cobra Kai Quotes
Two cobras in the jungle. One kills the strongest lion, the other kills a crippled monkey. Which cobra do you want to be?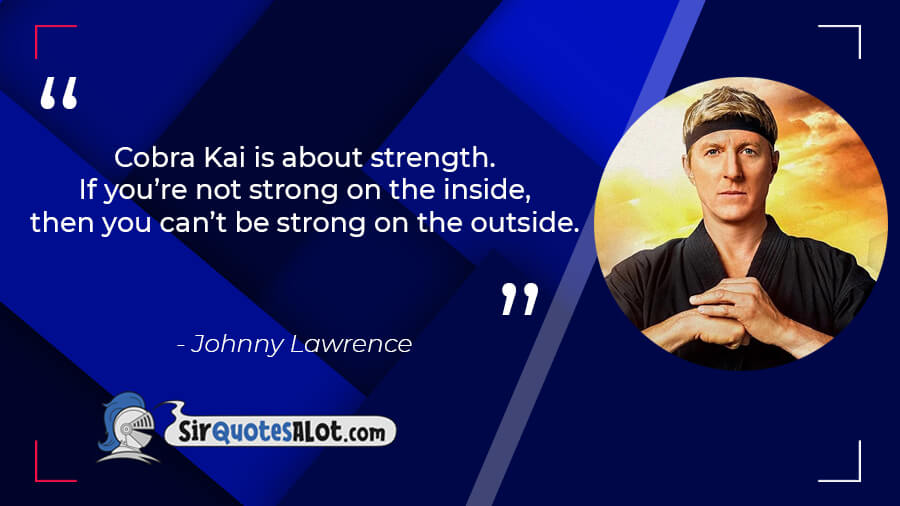 Cobra Kai is about strength – if you're not strong on the inside, then you can't be strong on the outside.
If I'm extra hard on you, it's because you have the ability to be better than me.
Kicks get chicks.
It doesn't matter if you're a loser, a nerd, or a freak, the only thing that matters is that you become badass.
In the real world, you can't expect people to do what they're supposed to do.
God, just looking at you makes me feel like a virgin.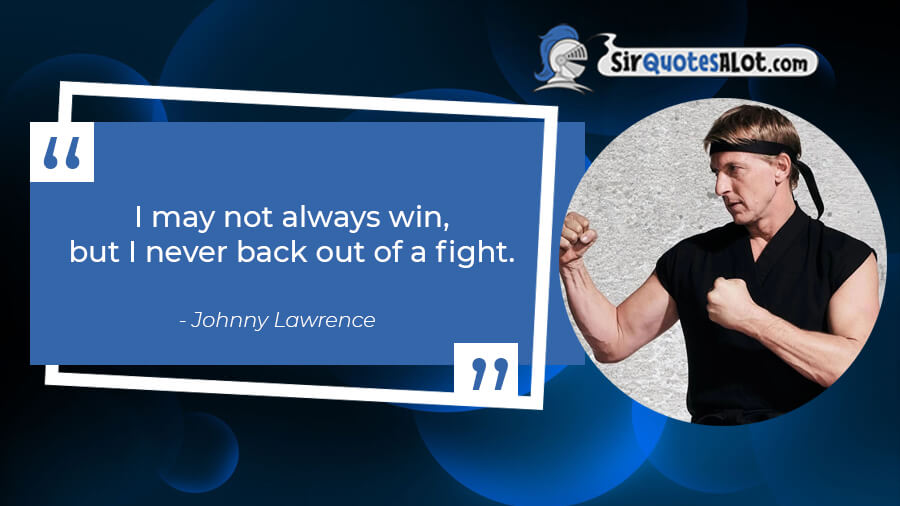 I may not always win, but I never back out of a fight.
The best defense is more offense.
Pain does not exist in this dojo!
Back in my day if we want to tease someone, we do it to their face.
I knew she was smart but I figured she was hot enough to avoid work.
I wasn't taught the difference between mercy and honor and I paid for it.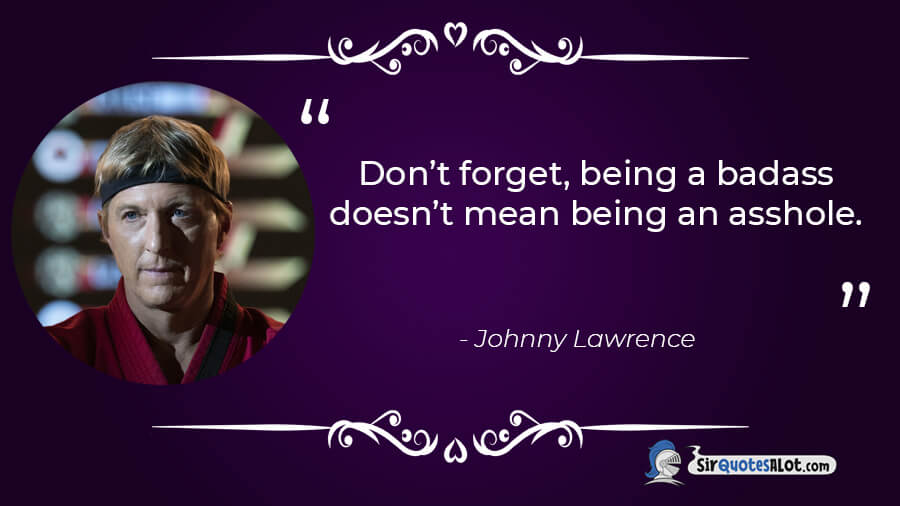 Don't forget, being a badass doesn't mean being an asshole.
The human's response to danger is fight or flight, but an eagle's response is fight and flight.
Some kids need a little aggression.
You know what they say, there's no such thing as a bad student.
Quiet! Never 'can't.' Those are just words, they're meaningless, It's time to get out of bed and do something. You're not a kid anymore, the world isn't just gonna hand it to you.
Did you just flinch virgin?
You want something, you'll have to crawl across the floor, use your damn teeth if you have to.
I've got one year to make it all work, and that's what I'm gonna do – make it work, all of it…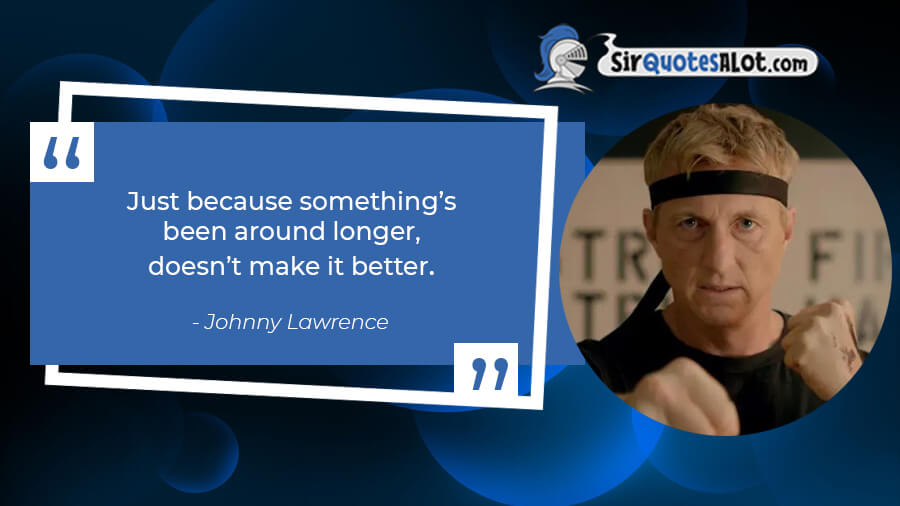 Just because something's been around longer doesn't make it better.
The older you get, the more you're going to learn that life isn't fair.
You wanna learn how to kick ass? First, you gotta learn how to kick
You want all the girls to think you're a wangless dork? 'Cause you can stop your training right now, and you can walk outside and let the whole world know you're a loser. Or you can plant your feet, look your enemy in the eyes, and punch him in the face!
I'm not just gonna teach you how to conquer your fears. I'm going to teach you how to awaken the snake within you. And once you do that, you'll be the ones who's feared. You'll build strength. You'll learn discipline. And when the time is right, you'll strike back.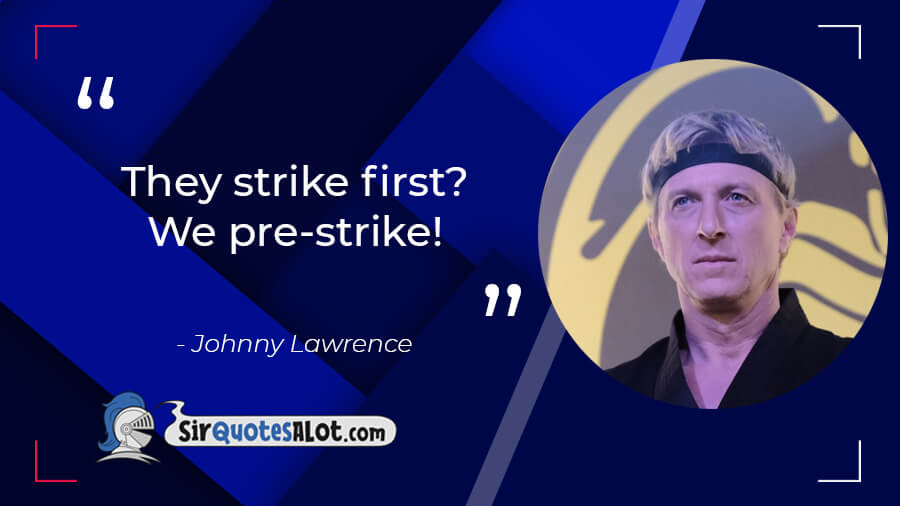 They strike first? We pre-strike!
It's alright. You fell like a champ.
To be Cobra Kai, you have to have a killer instinct.
You can leave your asthma and your peanut allergies and all that other made-up bullshit outside.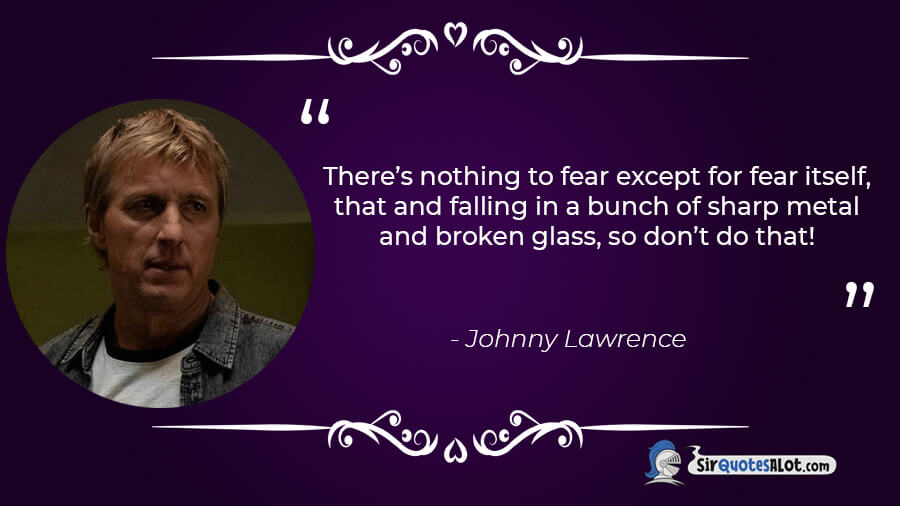 There's nothing to fear except for fear itself, that and falling in a bunch of sharp metal and broken glass, so don't do that!
I got the recipe off the Chili's website. I wanted it to be authentic.
Daniel LaRusso Cobra Kai Quotes
When negative feelings overwhelm you, look for the good within yourself.
Clearly, our students want us to find a way to work through our differences, I know you don't want to join Miyagi-Do, but at least you have to respect it.
If you have hate in your heart, then you have already lost.
You are the only one who can get up when you are down.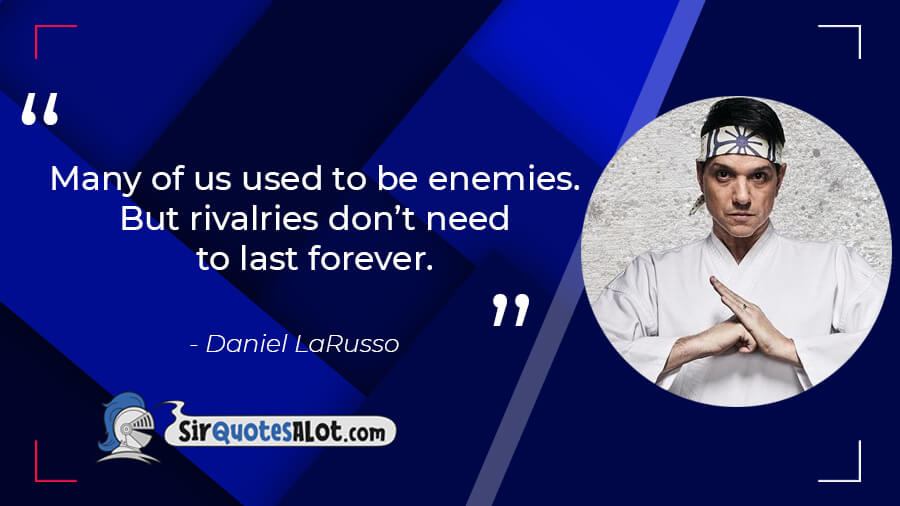 Many of us used to be enemies. But rivalries don't need to last forever.
It may not seem brave, but sometimes, avoiding conflict is one of the most heroic things you can do.
Nobody is more badass than Mr. Myagi.
You do the right thing cause it's the right thing to do.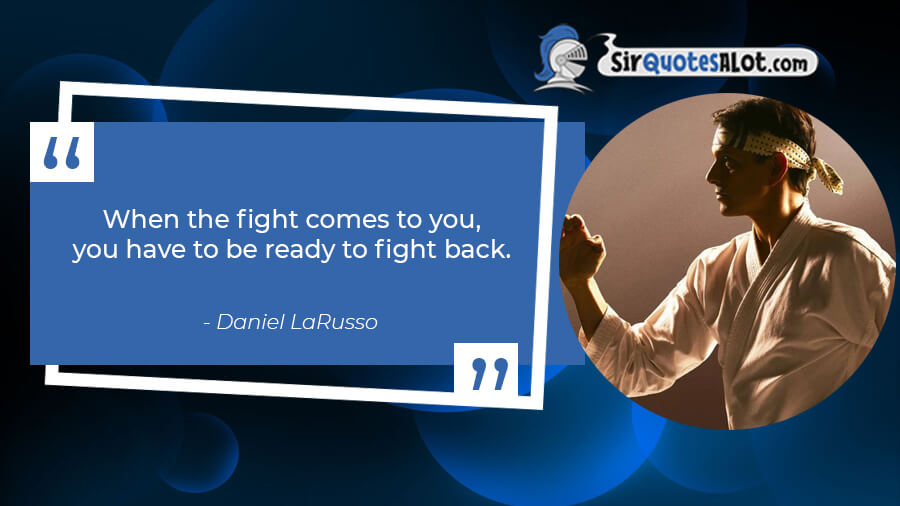 When the fight comes to you, you have to be ready to fight back.
I still live with the fear. We all do on some level. I just try to not let it ever win.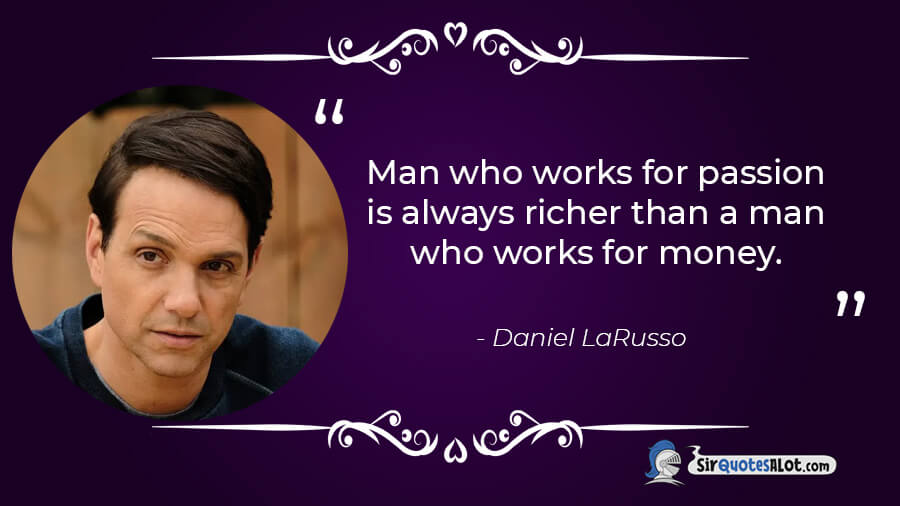 Man who works for passion is always richer than a man who works for money.
You may know the moves, but none of that matters unless you have balance.
John Kreese Cobra Kai Quotes
All that Miyagi-Do mumbo jumbo, that might score you points in a tournament. But now you're in the real world kid, you might wanna learn to strike first.
Life isn't always fair. Sometimes the world can be cruel. That's why you have to learn to be cruel yourselves.
There is no good, there is no bad. Only weak and strong.
We do not train to be merciful here. Mercy is for the weak. Here, in the streets, in competition.
Weakness is unacceptable.
We will strike back and we will strike hard!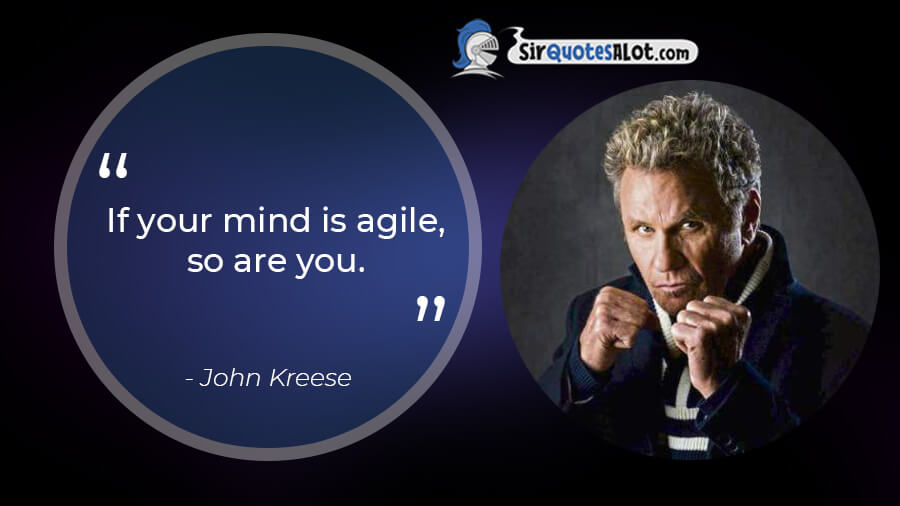 If your mind is agile, so are you.
We won't just dominate the tournament; we'll melt this whole snowflake generation.
When one of you makes a move, you all make a move. You live and you die with the consequences and the spoils because you are all Cobra Kai.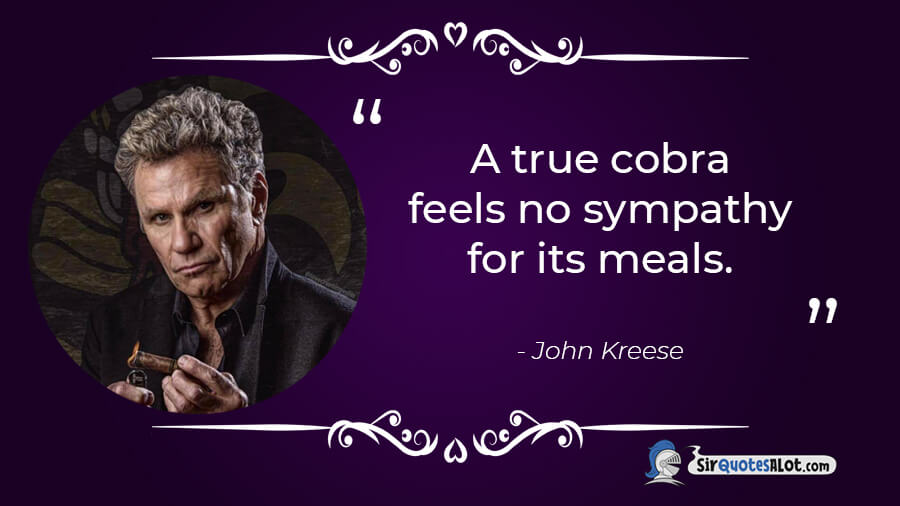 A true cobra feels no sympathy for its meals.
I don't think of you as a pawn. I think of you as a king.
You've come this far. This is your fight now. So whatever happens, it's up to you.
The enemy of your enemy is your friend.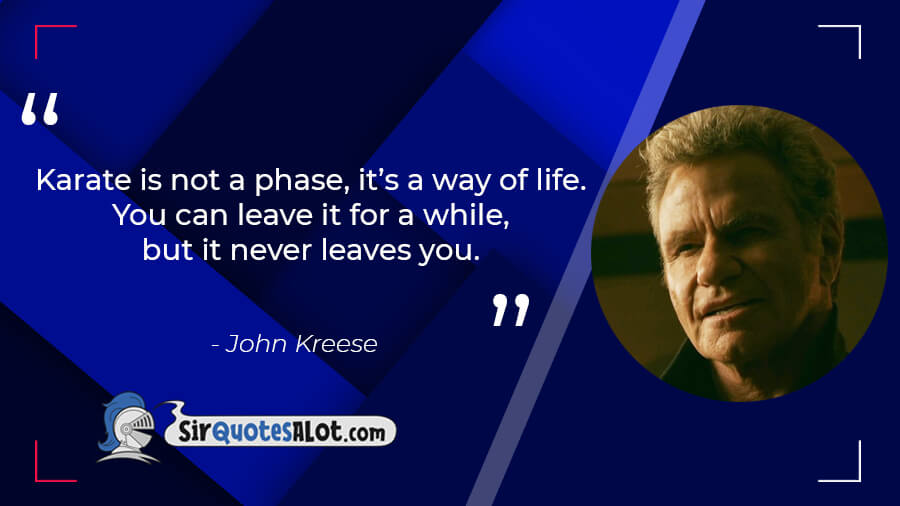 Karate is not a phase, it's a way of life. You can leave it for a while, but it never leaves you.
That's why we started Cobra Kai. Together, we made a difference.
Never underestimate your enemy, even if you think they're weaker than you, you have to stay one step ahead of them, that's the only way to guarantee the victory.
I've been fighting my whole life. I sure as hell ain't afraid of you.
Miguel Diaz Cobra Kai Quotes
We don't take no for an answer.
Overcoming that fear is the fight I have to face.
There's no honor in being merciless.
You're a sensei. It's who you are. If you can't see that, you're blind.
I didn't get into karate to hurt people. I did it to be badass and find balance.
Robby Keene Cobra Kai Quotes
I'm gonna have to face him sooner or later. Might as well be today.
Cool story. Try telling it to someone who gives a shit.
I just don't need to drink to pretend to be cool.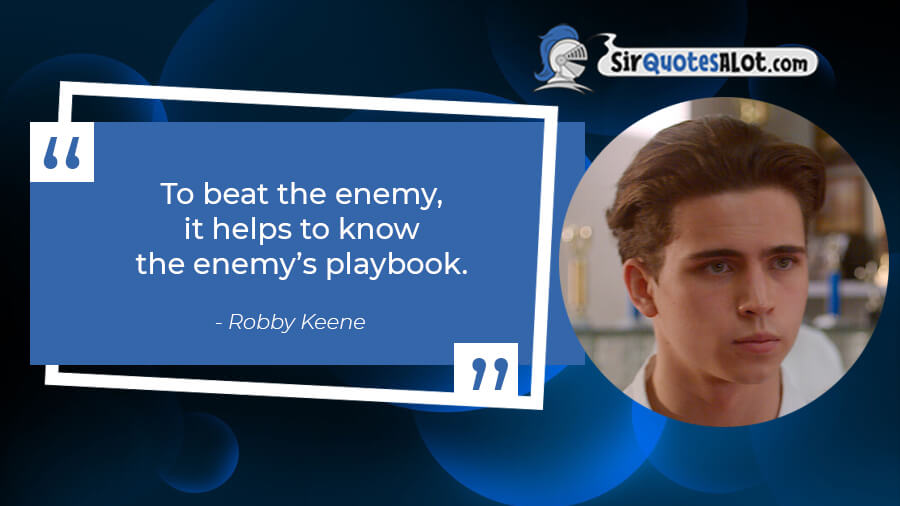 To beat the enemy, it helps to know the enemy's playbook.
Before I met you guys, I was a different person.
We may have taken some losses. But it's not about how you start, it's about how you finish.
Samantha LaRusso Cobra Kai Quotes
It's different when you are a girl. I mean even when you win, you're not cool or tough. They think you are crazy.
Alone we are nothing, but if we work together, we have a shot.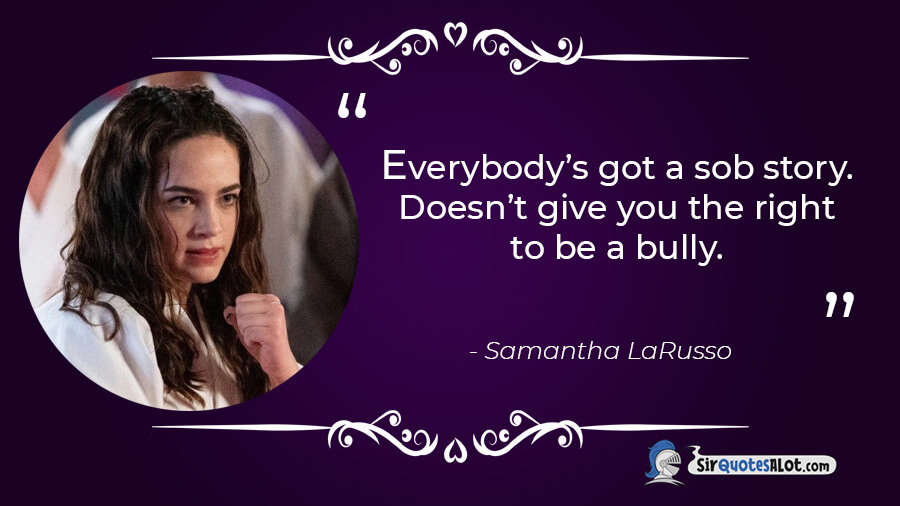 Everybody's got a sob story. Doesn't give you the right to be a bully.
Sometimes the scars you can't see are the ones that hurt the most.
If we can't get over the past, the fighting will never end. We have to confront our enemies. This rivalry has to stop. One way or another.
Hawk Cobra Kai Quotes
You just gotta feel the energy and just live in the moment, you know?
Alright, let me let you in on a little secret. It's not just a haircut or the back tattoo. It's a way of life, man.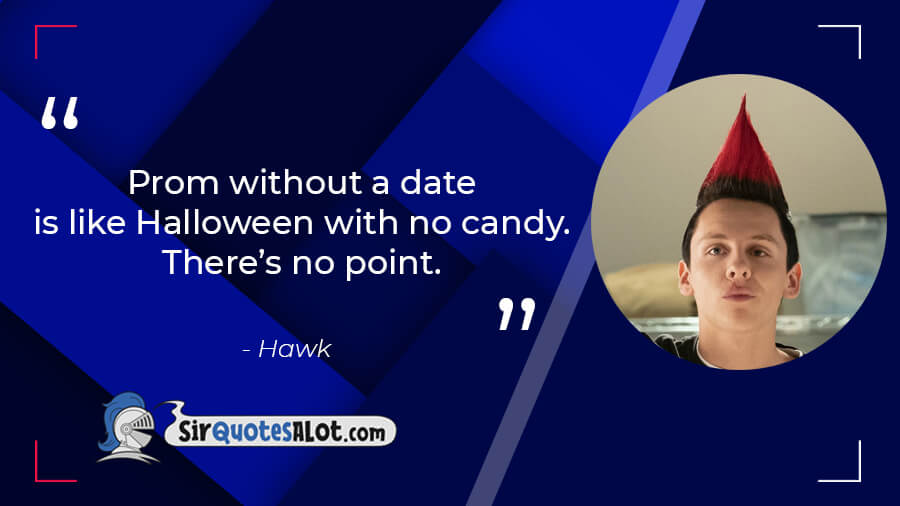 Prom without a date is like Halloween with no candy. There's no point.
Defeat does not exist.
You know what? That's life. You win some, you lose some, but you gotta move on. You never did. You're still pulling the same old bully act.
Interesting Facts about Cobra Kai
Now it's time for some interesting facts about Cobra Kai that may surprise you. Enjoy!
Unseen Footage from The Original Movie: Cobra Kai begins by showing us the 1984 All-Valley Karate Tournament that ends the movie. However, the footage may seem different, and that is because the producers were able to locate some unseen and unused camera angles from the Sony vaults. One particular shot is of LaRusso's foot landing on Lawrence's face, ending the fight between the two, and that footage was not seen in the original film.
The Classic Car That Ralph Macchio Owns: In the original The Karate Kid movie, Mr. Miyagi gives LaRusso one of his classic cars as a gift – a 1947 Ford Super Deluxe. The same car reappears again on Cobra Kai, but it's not a double, it's the same car. The car was a gift from Columbia Pictures that was given to Macchio following The Karate Kid Part III movie. Macchio kept the car and suggested that it will be included in the show.
Black Belt in Real Life: On the show, the character of Robby Keene is played by Tanner Buchanan. In the series, he is the wayward son of Johnny Lawrence who eventually falls under the tutelage of LaRusso. The interesting part, is that Buchanan's mother was a black belt in karate in real life and introduced him to the original movie.
A Hidden Easter Egg: In the original movie, when LaRusso arrives in California, he makes friends with Freddy Fernandez (Israel Juarbe) at the apartment complex. You can see Fernandez is wearing a "Makin' Bacon" T-shirt. Now back to the show, on episode number 7 of season 2, LaRusso takes his students to train in a walk-in meat locker. The stamps on the boxes behind him have the labels "Fernandez Meat Company."
The Cobra Kai Video Game: Cobra Kai: The Karate Kid Saga Continues is a side-scrolling action game that was released in October 2020 for the Nintendo Switch, PlayStation 4, and Xbox One. Macchio's and Zabka's voices are heard in the game, which features their characters as well as those of Robby, Miguel, and Hawk, in a dojo battle.
For more quotes from exciting and popular TV shows, please visit our pages on Breaking Bad quotes, Doctor Who quotes, Peaky Blinders quotes, and Tyrion Lannister quotes.